K-Tec Doubles Up Capacity with New Train Earthmoving Scrapers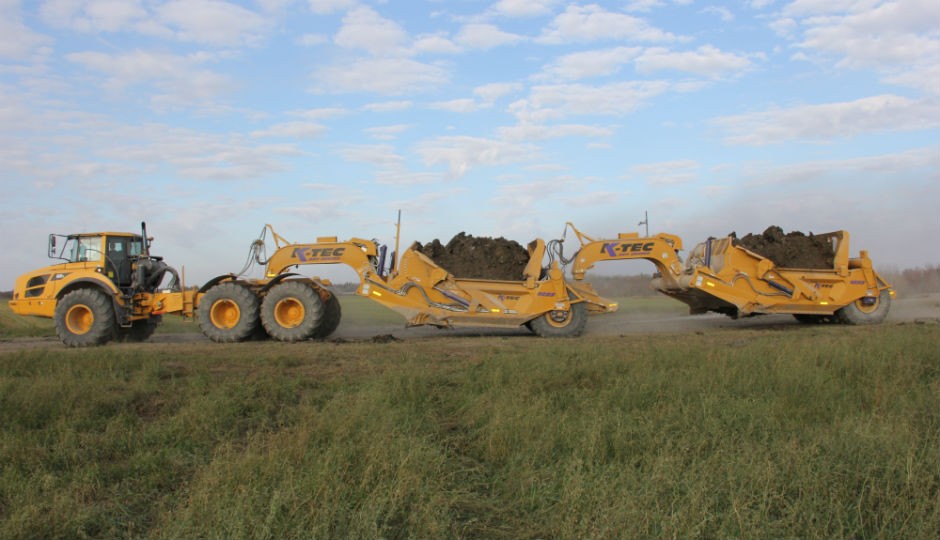 K-Tec Earthmovers have revealed a fully integrated scraper system to haul twice as much material with the same construction power unit. K-Tec's popular 1233ADT scraper is now able to add a hitching system on the rear tail, to accommodate the attachment of another 1233ADT scraper.
The operator is able to use responsive joystick control functionality inside the Articulated Dump Truck (ADT) to first load the lead scraper, and then fully load the rear scraper. A digital display screen exclusive to K-Tec is also included in the cab for visual operating details, tracking load count productivity, and troubleshoot serviceability. The benefits of using the ADT with K-Tec's ADT Train scrapers result in a massive advantage in earthmoving. The ability to travel 30+MPH down haul roads improves cycle time performance. The fuel efficiency factor is also apparent, with just a single engine running between 12-18GPH.
Customer demand was the driving force behind this latest earthmoving innovation by K-Tec. Contractors are continually searching for ways to get more value out of their existing fleet of equipment, and look to reduce cycle time while moving more material.
K-Tec's ADT Train scraper system is able to self-load as an efficient single unit operation for precision grading and dumping; be push-loaded for enhanced loading time; or be top-loaded via excavator for heaped hauling. The clever bolt-together design of the K-Tec 1233ADT scraper allows for ease of maintenance and overseas shipping. Each scraper unit can be organized into a standard 40-foot sea container to access international markets. K-Tec scrapers are backed by a 3-Year structural warranty, to minimize downtime for critical jobsite operations.For more information, please visit www.ktec.com.