New Economizer Poly Electric Spreader Has Dual Motor Efficiency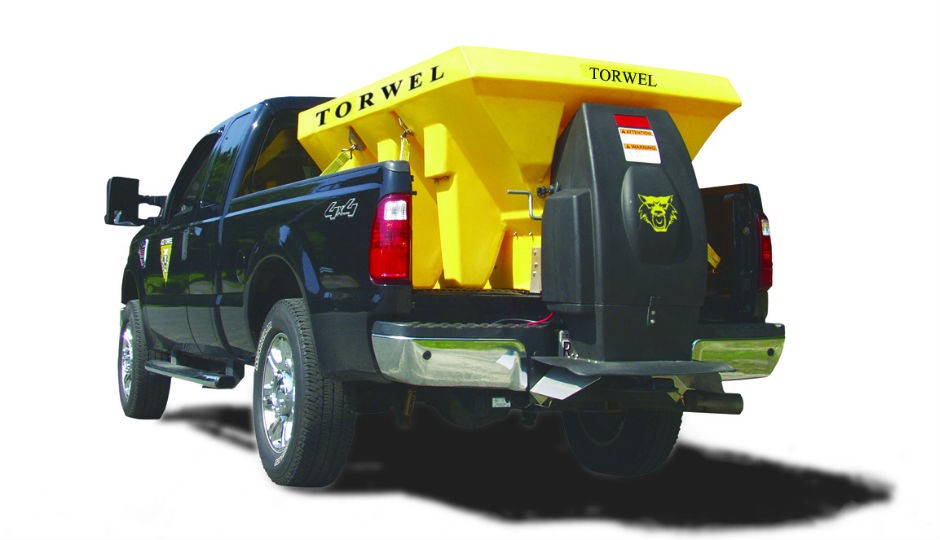 Ace Torwel, Inc. has allied with Equifab, Inc. of Quebec to introduce the new Economizer Poly Dual Motor Electric Spreader. As a result of this alliance, Ace Torwel's Economizer pick-up V-box spreaders are now available with lightweight, rust-resistant polymer construction, simplifying installation and maintenance. Hundreds of pounds lighter than all-stainless models, model P185 1.8-yard capacity poly spreader fits a 7-foot truck bed and model P210 2.1-yard capacity spreader fits a standard 8-foot truck bed.
Alan Mckenzie, Vice President of Marketing for Ace Torwel Inc., said his company is proud to ally with Equifab to bring important new options to the company's American road service markets. "As with Ace Torwel's stainless steel models, the new poly electric spreader features upgrades important for operators and their customers," he said. "In addition to offering energy advantages, dual electric 12V motors ensure quiet yet reliable performance, eliminating disturbing vibration noise that can interfere with servicing sensitive accounts at night," he said.
Wireless remote control
Economizer Poly Electric Spreaders also come standard with wireless remote control that permits the operation of both motors independently for precise rate and pattern control. The programmable, variable speed remote controller allows synchronization of the spinner and chain at different speeds, enabling application rates to precisely match the vehicle's velocity. Multiple cruise control setting options let the operator preprogram ideal application rates and spinner patterns for the most common application speeds. As the truck velocity changes, the control settings can be adjusted to maintain an even, ideal application rate.
Other features
Economizer Poly Electric Spreaders have a quiet drive that provides smooth fluid power, built-in circuit overload protection, heavy-duty top screen and optional easy to remove vinyl top cover.