Creating aggregate from C&D waste in Edmonton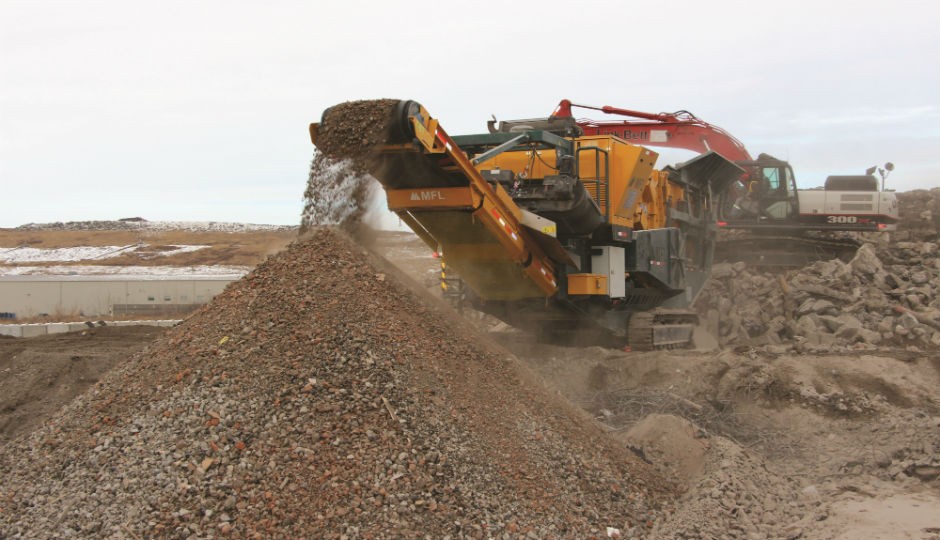 A mobile impact crusher has been churning out 2½-inch aggregate at the City of Edmonton's Waste Management Centre, adding to the city's reputation as a leader in its efforts to recycle construction and demolition (C&D) debris.
Terrafirma Equipment Sales & Rentals, an Edmonton-based heavy-equipment dealer, provided a tour of the crusher for representatives from Heavy Equipment Guide, the City of Edmonton and the manufacturer, SBM Mineral Processing, a member of the Austria-based MFL Group.
The MFL RCI 100.130TV mobile impact crusher was working a waste pile interspersed with rebar, large chunks of concrete and steel. The metal is being separated out from the crushable material and the finished product, 2½-inch (63 mm)-minus aggregate, will be used as road base on the Waste Management Centre's roads and others throughout the Edmonton area.
"The product that comes out is awesome. The first time you pass it through, it gets right to the product. You don't have to repass it twice," said Dan Lefebvre, an independent contractor hired by the City of Edmonton to run the crusher. "When the city came and took samples they said it's the best they've seen in 20 years."
The City of Edmonton has an active aggregates recycling program run through three sites. Since it began in 1978, Edmonton has recycled around 4.6 million tonnes of aggregate, with the majority of the material coming from construction sites and about 15 percent from residences. An amazing 99 percent of the aggregate rubble produced by the city is recycled, saving landfill space.
Annually, Edmonton stockpiles some 200,000 tonnes of crushed concrete and asphalt, and about 4,000 tonnes of steel.
The steel component is important because it pays for the aggregates recycling program without having to use tax dollars. Not only that but the program is estimated to save the city around $15 million a year, based on current replacement costs for natural aggregate and landfill cost savings. The city also saves by not having to truck in aggregate used in road building and building construction.
Less trucks means less greenhouse gas emissions, making the program all the more appealing to local politicians and taxpayers. "You start doing the numbers and it adds up really quickly that we're doing the right thing," said Blair Buchholtz, general supervisor of aggregate recycling operations with the City of Edmonton.
As MFL's impact crusher is put through its paces at the Waste Management Centre, Buchholtz said he sees real potential in the machine's ability to crush aggregate needed to meet the province of Alberta's new chip standard for road surfaces.
Edmonton currently buys its chip and high performance aggregates from a quarry in Rocky Mountain House but it's more expensive than what the city can produce internally through its recycling operations.
"Whatever we haul in as crushed stock, every part of that material will get used in one of my operations. So there's less waste for us and we can crush at a lower cost because we have all our infrastructure in place. It ends up being a lot more beneficial financially and logistically," said Buchholtz.
He said the city plans to use the RCI 100.130TV, or a similar unit, to bring the material down to the 63 mm to 8 mm chip standard now required by the province, using the crusher in conjunction with a screening plant.
"If we're using it for that material ... we don't have to worry about cleaning rebar off the spinners or the blow bars, and based on the digestibility and the way we can flip the blow bars within that unit and the wear plates, [it] seemed to make a lot more sense than the other units I've seen," Buchholtz explained. "I know we want to run some more trials on it but from initial appearances, and the specifications that we've had a look at, it seems to be a pretty easy decision to use that piece of equipment on our spread.
"We're going to bring it in and use it on a trial basis and we'll look at purchasing either that one or one similar to it, so we can get that new chip-standard material."
Norbert Dieplinger, international business development manager with MFL-SBM, noted one of the machine's main advantages to customers is its ability to crush the material using less steps.
A traditional approach is to use a jaw crusher to pre-crush the material before it is fed into cone crushers to reduce it to the required specification. MFL's mobile impact crushers roll four processes into one, siad Dieplinger.
"After the cone it's a little bit flaky so they have to use vertical shaft impactors to shape the material, so in the end we're talking about four stages just to get this one product," he said. "If you feed in this five-inch material after crushing it in the first round you will get about 60 percent 3/8- to 1/2-inch material, so everything up to 98 percent is already in a perfect cubical shape. It's material that you can use right away."
Dieplinger also noted the machine runs on a diesel-electric drive versus diesel hydraulics, saving the operator about 30 percent in fuel costs and reducing the environmental footprint.
"They can connect every mobile plant of ours directly to the mains without running the diesel engine," he said. "If you run it just with electricity, it's very clean machinery