Terex Tier 4 Final TC16 AND TC29 Excavators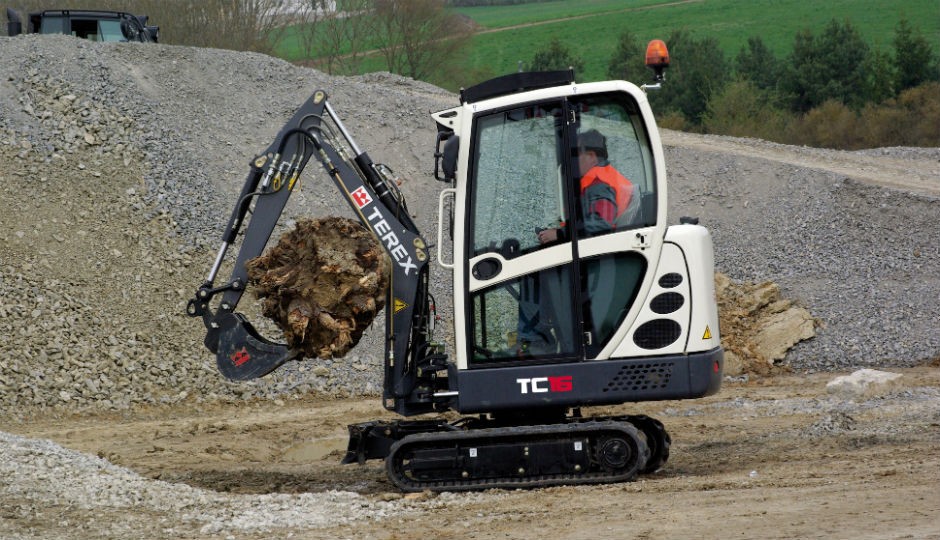 The new Terex TC16 and TC29 compact excavators are designed to enhance jobsite productivity, efficiency and cost-effectiveness, while allowing operators to work with precision and power. These models offer many of the same popular features as the predecessor models, such as the adjustable Knickmatik boom system and Terex Fingertip controls, with enhanced capacities of their Tier 4 Final Mitsubishi diesel engines. The productive horsepower and improved fuel efficiency with electronic governance of the new Terex TC16 and TC29 compact excavators allow operators to dig deep, reach far and lift heavy loads at a low cost of operation, increasing return-on-investment.
Compact and reliable, these Terex compact excavators are able to tackle a wide range of jobs, from trenching and excavating to ground levelling, backfilling, grading and contouring and loading/unloading.Weighing in at 3,800 lb, the TC16 compact excavator offers a dig depth of 7 ft 3 in and a maximum reach of 12 ft 10 in. It has a bucket capacity of 0.74 – 3.2 ft3. Weighing in at 6,450 lb, the TC29 compact excavator achieves a maximum dig depth of 9 ft 10 in and a maximum reach of 16 ft 5 in. This unit's bucket capacity ranges from 1.34 ft3 to 3.88 ft3. These Terex compact excavators come equipped with broad rubber tracks that provide excellent traction and low ground pressure — 3.6 psi on the TC16 excavator and 3.9 psi on the TC29 excavator. The tread pattern is designed to provide a large surface area for exceptional ground contact and to improve ride comfort.
Both units are engineered with load independent flow distribution (LUDV), which means the available hydraulic flow on these excavator is proportionally distributed to provide hydraulic power when and where it is needed. All functions can be controlled simultaneously and independently from one another, and the system enables operators to precisely control all functions at every motor speed, independent of the load, to maintain a consistent level of productivity. Large amounts of hydraulic oil in the auxiliary hydraulic circuit mean that these Terex excavators can be controlled precisely at all times, and work attachments such as hydraulic hammers, cutting units and auger drills can be operated productively. These Terex compact excavators are also equipped with an auto-idling system to help improve fuel economy while lowering engine noise when the excavators are not carrying a load or in use. And, their two-gear drive motor offer automatic speed changes for agile movement on jobsites.
The Knickmatik boom system on the new Terex TC16 and TC29 compact excavators allow operators to work closely alongside walls or other existing infrastructure, as well as drive parallel to a trench or drain while working on it without turning the superstructure. The units' offset boom design means that these excavators can move to either side at full digging depth. In addition, the Terex excavators' top-mounted neck cylinders are designed to provide additional clearance for the operator to load large, high-walled trucks and containers while protecting them from damage. End-position cushioning on both units' hydraulic cylinders reduces vibrations and allows operators to work comfortably.