Cat Excavator Undercarriage Enhances MD6640 Rotary Drill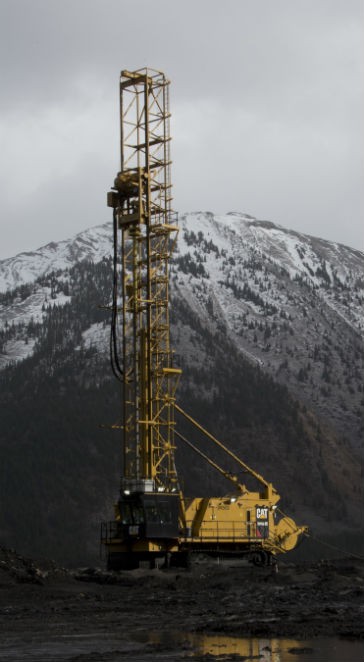 Caterpillar has upgraded the MD6640 Rotary Drill with the new Cat 390 excavator undercarriage, which helps minimize downtime, reduces operating costs and increases machine productivity. The MD6640 is electrically powered and is Caterpillar's largest rotary drill—capable of hole diameters as large as 349 mm (13.75 inches) with bit loads up to 64 000 kg (141,096 lb).
The new undercarriage delivers 32 percent more drawbar pull for increased steering performance and 56 percent greater gradeability for traveling on ramps and slopes. Double grouser track shoes provide more traction, and the longer undercarriage reduces ground pressure for improved performance in soft underfoot conditions.
The new undercarriage also reduces maintenance and increases durability. All rollers and idlers are sealed for life, which means they don't require periodic lubrication. The new positive pin retention system increases track reliability and eliminates pin walking, and automatic hydraulic tensioning reduces undercarriage wear. Dual axles with an oscillating front yoke provide flexibility to propel over rough terrain, and they reduce main frame maintenance. The new Cat undercarriage can be retrofitted to models in the field.
Durable and productive
The MD6640 mast system features square tubular members, which have twice the bending strength of angle iron. The mast machinery integrates the pulldown and rotary drive into one system and avoids the higher maintenance associated with chain and cable systems. The rack and pinion system applies constant bit load pressure.
Three different mast height options allow single-pass depths of as much as 21.3 m (70 ft) and multi-pass depths of as much as 42.6 m (140 ft). The Drillstring Changeout System enables quick drill pipe changes. The design allows angle hole drilling to 25° in 5° increments. Additionally, vibration and noise are minimized by the use of the proven Programmed Drill Control option, cushioned centralizer and shock sub.
The spacious and comfortable cab is designed to enhance operator efficiency. Windows provide a panoramic view of the drill deck and an unobstructed sight line to pipe handling operations.