Rotobec Selected as One of Canada's 50 Best Managed Companies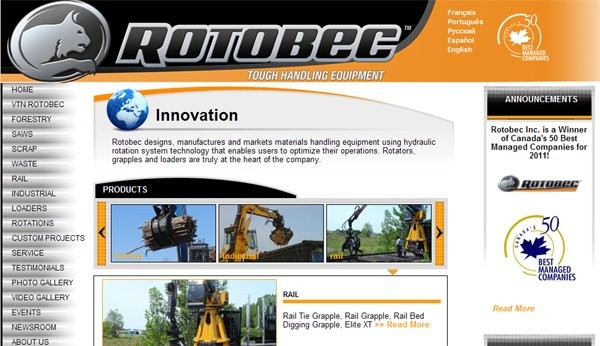 The 2011 winners of Canada's Best Managed Companies stuck to what they do best: improving efficiencies, looking for new opportunities, innovating and growing.

These private organizations were evaluated through a rigorous and independent process for their management capabilities and practices. Winners will be awarded with the distinction of Canada's Best Managed Companies at the annual gala and symposium on March 27, 2012 in Toronto.

Rotobec chosen as one the Winners
Rotobec offers products designed and built to their customers' needs and demonstrates great innovation and flexibility in serving various industries, the company stated. Continuous improvement processes, coupled with cutting-edge technologies, increase operation efficiency, enabling our customers to acquire high quality products at competitive prices. Rotobec generates more than two-thirds of its revenue in more than twenty countries.

"I am honored that Rotobec is recognized as one of the 50 Best Managed Companies in Canada. This tribute is a reflection of the extraordinary commitment of our people and of the trust expressed by our customers." Mr. Robert Bouchard, President, Rotobec Inc.

"While Best Managed Companies recognize uncertainty on the economic horizon their focus has been squarely on growing their businesses and identifying new income streams," said John Hughes, Deloitte partner, Private Company Services, and national leader of Canada's 50 Best Managed Companies Program. "They grew through targeted spending in the form of acquisitions, enhancing their infrastructure and on product and service innovation."

Despite economic uncertainty, the 2011 Canada's 50 Best Managed Companies grew by 12 per cent last year, generated over $5 billion in combined revenue and employed over 20,000 Canadians.

"These companies have proved that, even in an uncertain economy, if you are nimble enough, innovative enough and have a growth-oriented focus, there are opportunities to be found." says Dino Medves, senior vice-president, CIBC Commercial Banking. "These companies, their executives and their employees serve as inspiring examples of what can be accomplished with a well thought out business plan, a strong team and a disciplined management approach."

With the backdrop of a stable Canadian economy, strong Canadian dollar, solid banking and housing sectors, Canadian companies performed well over last year. And here is how they did it.

Best Managed Companies search for good growth
Growth remained at the top of the C-suite agenda this year. While mergers and acquisition activity softened over the last eight months given the uncertainty in Europe and the US, there is still significant cash reserves on the sidelines waiting to be put into the market and many market insiders expect M&A activity to increase over the next 12 to 36 months.

As many Canadian businesses see flat or negative growth, margin enhancement has been a significant strategy to maintaining income levels. An off-shoot of this, evidenced in this year's Best Managed Companies is increased instances of vertical integration as companies' look, not only to increase margins, but to gain more control over their supply chain.

Best Managed Companies invest significantly in product and service innovation

While this might seem like an obvious strategy, it is not. This year's winners have invested significantly in product and service innovation to increase margins and to build attractive value propositions for their customers. This is another way Canada's Best Managed Companies have been able to drive additional margins in excess of revenue growth, innovative and cost effective building materials to support infrastructure spending, particularly in the architecture, engineering and construction space. There were many examples of the implementation of technologies that lowered cost of products or services or increased the utilization or useful life of assets.

Best Managed Companies know that private equity has changed the game

A significant number of Best Managed Companies have joined with a private equity partner in recent years. In many cases the private equity partner's network, its management team, its insights on other business, whether it is pricing or cost reduction strategies, can ultimately help private companies become more successful. In addition, private equity brings a disciplined governance approach to entrepreneurial businesses and adds another management dimension that will support future growth.

Best Managed Companies understand that succession planning is an ongoing process

We know that a significant number of owners plan to exit their business in the next five years. Best Managed Companies addressing this challenge recognize that succession/transition planning is an ongoing process and requires a holistic view of the business and their owners, particularly where family enterprises are involved. Best Managed Companies view this business transition as an opportunity to build a foundation for a sustainable business by focusing on creating and protecting the value of their business.

Best Managed Companies continue to assess their exposure to the U.S.

Many Canadian companies are seeking revenue streams globally and buying US companies as the valuations are reasonable, but more importantly they provide additional growth opportunities, not only in the US but can become platforms to Mexico and South America.

For a complete list of winners, visit Canada's 50 Best Managed Companies.