Superior's Aggre-Dry Dewatering Washer Saves Valuable Material From Waste Pond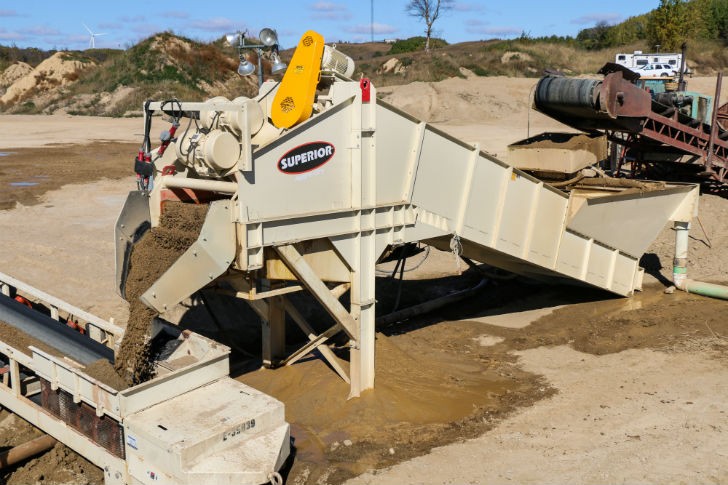 Superior Industries, Inc., a major U.S. manufacturer and global supplier of material handling systems and their related components, says its washing fines recovery system was granted patent protection from the United States Patent and Trademark Office.
This exclusive technology, manufactured into the company's Aggre-Dry Dewatering Washer, reroutes minus 25mm material fines from an onboard dewatering screen back to the integrated sand screw. Traditionally, the company says, these fines are lost to waste ponds, but the recovery system processes this material to the saleable stockpile. Depending on production rates, the extra material can add tens of thousands of dollars to sand producer's bottom line.
Superior's Aggre-Dry Dewatering Washer is a single machine integrating a fine material washer and a dewatering screen. Sand processed through the equipment is stockpiled with a moisture content of just 8%, meaning the saleable product requires no drying time and can be accessed immediately.
Alternative uses to this technology include traditional sand screws, which produce high moisture material that can takes weeks to dry; dewatering screens without partner material washers lose up to 15% of sand to waste ponds; and cyclones use excessive amounts of horsepower, at least double the consumption of an Aggre-Dry Dewatering Washer.
Aggre-Dry Dewatering Washers are available in single or twin screw configurations and in screw sizes of 36-inches (914mm) to 60-inches (1,524mm). The twin screw 60-inch model is capable of processing up to 800 TPH. The maximum material size that can be process through the machine is 3/8-inches.