Density separator makes sand classification easy
"It's the best sand I've ever had; the concrete places are just in awe."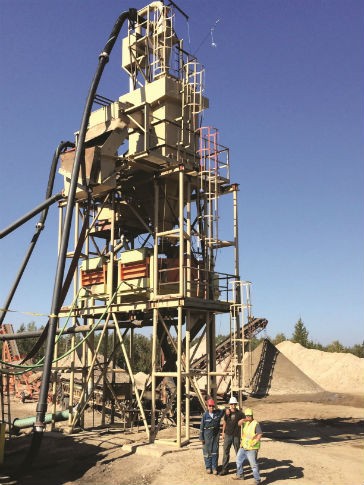 The methodology for classifying sand has been around for decades but separation technology from CFS Inc. is proving especially valuable for sand plants whose raw materials are often contaminated with clays, coal and other light ends.
The density separator from CFS, based in Michigan, is designed to classify sand into a variety of end products. The Groundworx Co, a Canadian aggregates equipment dealer, recently became the Western Canadian dealer for CFS and sold its first density separator to Guytec Industries Ltd. out of Pine Lake, Alberta.
Grant Kergen, Groundworx owner and sales manager, says the technology is particularly useful in Alberta, where much of the good sand has already been depleted and what remains is often mixed with coal. "All we're left with is some pretty rough stuff and this unit is going to solve that problem."
The coal, clay and other light materials must be separated from the rest of the sand in order for the end products to meet industry specifications required for dams, overpasses,concrete high rises and the like.
The density separator works by separating the washed sand into two fractions: coarse and fine. "You basically wet your sand, pump it up top and put it into the density separator and then, based on the settings, it'll release the sand at a specific gravity," Kergen explains.
Through a continuous process of water, sand and pressure, the density separator creates a fluidized bed that is adjustable from 1.55 to 1.8 specific gravity. The coal and light materials pop to the top and are skimmed off with a fine screen, leaving clean fine sand. Coarse sand dumps out of the bottom through a regulating valve.
"We're using physics to separate it by density, and then we're using the screen to separate it by size," Kergen says.
He said the value of the density separator to the customer lies in its ability to separate two fractions of sand at the same time. Other advantages include higher recovery rates with minimal waste, low water requirements and low maintenance costs due to few moving parts, CFS notes in a product brochure.
Regarding maintenance, Kergen says the unit is easy to maintain because there is only one belt that is controlled by a densometer.
"You just dial it in...and the valve throttles itself to let the sand blow. It's just one moving part," he said. "Our competitor has multiple moving parts and belts that release sand at different times, and more moving parts mean more maintenance."
Kergen adds that the unit has performed beyond expectations for Guytec, whose high-end silica deposit contains lignite (coal), rotten stone and chert contaminants.
Guytec owner Guy Tremblay said the $1-million project to install the 55-foot-high density separator has paid dividends for the company, which specializes in golf course sand and also produces sand-blasting sand, masonry sand and gravel.
"It re-opened my doors for the concrete industry," says Tremblay."It's the best sand I've ever had; the concrete places are just in awe."
The density separator was not only able to separate the lignite, rotten stone and chert, but also increased Guytec's production.
"I got a double whammy on both because I can do up to 100 tons an hour without jeopardizing the quality, and the quality surpasses what I thought it would be," says Tremblay.
Kergen says that other sand plants are expressing interest in the density separator and he's targeting the concrete and masonry markets for potential new sales.
"We take the material and then you can blend it back in, add some fines into the coarse, or coarse into the fines. You can get a finished product exactly what you want."