Contractor Finds Winning Strategy Using Volumetric Mixers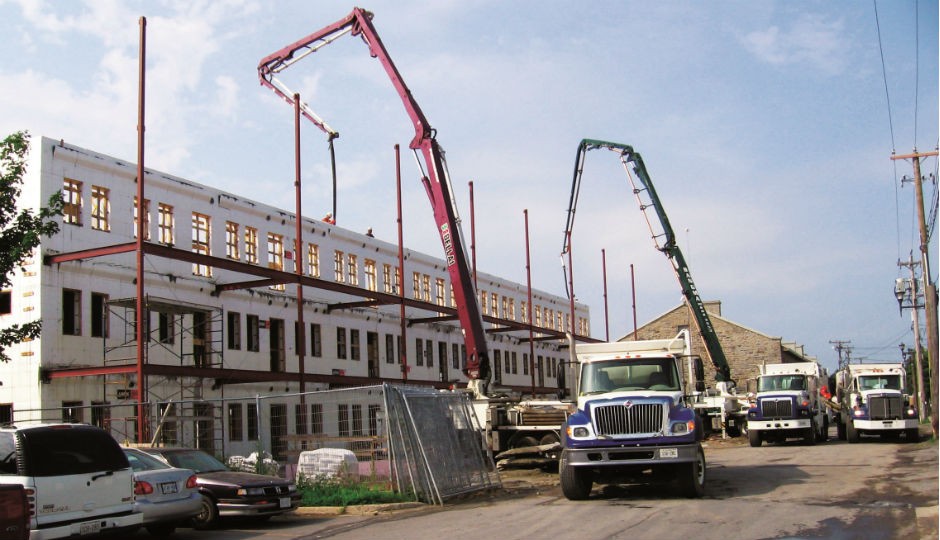 After a 40-year career with Lafarge in Eastern Canada, Bob Castle pondered what he would do in order to stay busy once he retired. Prior to retiring in 2002, he decided to purchase a small concrete company located in Brockville, Ontario. Thousand Islands Concrete (TIC) was not just any concrete company; TIC ran four Daffin volumetric concrete mixers to fulfill customer orders. Fortunate for Bob, he had experienced delivery personnel capable of maintaining the old, outdated mixers.
Early on, Bob knew he had to replace the Daffin mixers that were breaking down regularly. He realized he needed more upto-date, reliable equipment, especially if he wanted to go after higher volume projects. There were a number of reasons why Bob wanted to stay with volumetric mixing technology:
1. Smaller footprint for the yard. This would allow for versatility in his regional growth plans.
2. TIC customers ordered concrete for remote locations. The easiest way to deliver fresh concrete was to mix it right at the job site with volumetric mixers.
3. Volumetric mixers create very little waste. When the pour is finished, the operator just turns off the mixer. All materials are stored separately on the truck so they can be mixed at the next job site.
4. Volumetric mixers have a smaller carbon footprint. Overall, there is a significant reduction in truck trips since there are no extra trips to the job site for clean-up loads.
5. Customers recognize the value. TIC customers were well-aware that they only pay for what gets poured; if they order five cubic metres and they only need four cubic metres, they pay for four cubic metres.
During the first three years, Bob swapped out TIC's entire fleet of mixers for Reimers. The efficiencies compared to the old equipment were amazing. "ProAll has a reputation for excellent mixer products and is a great company to do business with. I couldn't believe how much the mixers had advanced compared to our old Daffins," stated Bob. "I also wanted to do business with a Canadian company, so selecting Reimer Alliance was an easy choice."
At this point, Bob's son, Steve Castle, left his position at Lafarge to work in the expanding TIC business. He brought 15 years of experience working for Lafarge. "Initially, we both were a little nervous about working together, but it has worked out completely," Steve said. "We both had careers in management at Lafarge; we were extremely familiar with the successful business framework that Lafarge deploys within their management team. We had the wisdom and the vision to be successful based on our large-company experience." In the past year Russ Welch (brother-inlaw/ son-in-law) has joined the team as well. Russ has a financial background and primarily handles the office administration.
Large, untapped market
After Steve joined the company, he and Bob created a five-year plan to grow TIC revenues and to expand regionally. Through this planning process, they recognized that there was a large, untapped market in Ontario's cottage country. TIC could radiate out from the main plant in Brockville, setting up depots where the mixers could recharge materials during the day and return to one central location each night for maintenance. TIC now has a second location in North Frontenac servicing cottage country.
The main thing that sets TIC apart from their competition is their equipment – they are the only operation deploying volumetric mixers in their marketplace – though other concrete suppliers in surrounding markets have also recently acquired volumetric trucks. TIC is also very fortunate to have experienced drivers (average of 14 years' experience) who ultimately make the company successful.
According to Castle, there are features to their business model which needed to become key messages for their customers and prospects:
1. Only pay for what you use.
2. No wait times for balance/clean-up loads.
3. You don't have to be overly specific in how much concrete you need. Because of terrain, calculating the volume of concrete required can be very difficult.
4. Customers in remote areas, where there are no ready-mix companies, can get fresh concrete because it's made right on the job site.
TIC developed a partner program which identified contractors to approach and solidified relationships with them. Initially, in order to break the barrier to contractors ordering concrete from volumetric mixers, TIC set up one forming contractor who did 50+ foundations each year.
Glen Murdock of Mallorytown Cement Finishing said that he was sold on Reimer Mixers because he could eliminate wait times for clean-up loads and only pay for the concrete he used – savings which would add up to wages for one crew member every week.
TIC collects testimonials and referrals from these partnerships that help to validate the business model, ultimately growing the business.
Bob is also a past president of the Ready Mixed Concrete Association of Ontario and recognized the importance of TIC being an association member. TIC adheres to the certification processes that RMCAO instills which helps to prove to contractors that TIC's fleet can produce quality concrete.
"Once we started working with the Reimers we realized we could bid on projects that we never could before," stated Steve Castle. "We could bid on commercial projects – strip malls, big box stores, schools and bridges – places where highlyspecified concrete was required."
Today, Steve sits on the Board of Directors for the RMCAO and holds certification from the American Concrete Institute (ACI) which also helps to boost credibility. A big part of TIC's strategy is a progressive marketing campaign which includes an extensive website and photo gallery.
With more and more large commercial jobs being undertaken by TIC, more specifiers and engineers are becoming familiar with continuous mixing technology and with TIC's resume of varied projects.
Steve Castle said: "The RMCAO calibration process requires that all machines are calibrated by outside testing companies. This speaks to our credibility, and having ACI certification on staff at TIC indicates that we're serious about quality concrete production. TIC is also ECO Gold Certified as a member of the RMCAO"
This past year TIC has also been involved with supplying concrete to over five different solar farm projects. The company said the various general contractors have realized the advantages of the volumetric truck, and the flexibility of time and reduced waste has proven to be successful for them.