Crane Operator Skills Competition to be featured as World of Concrete Outdoor Event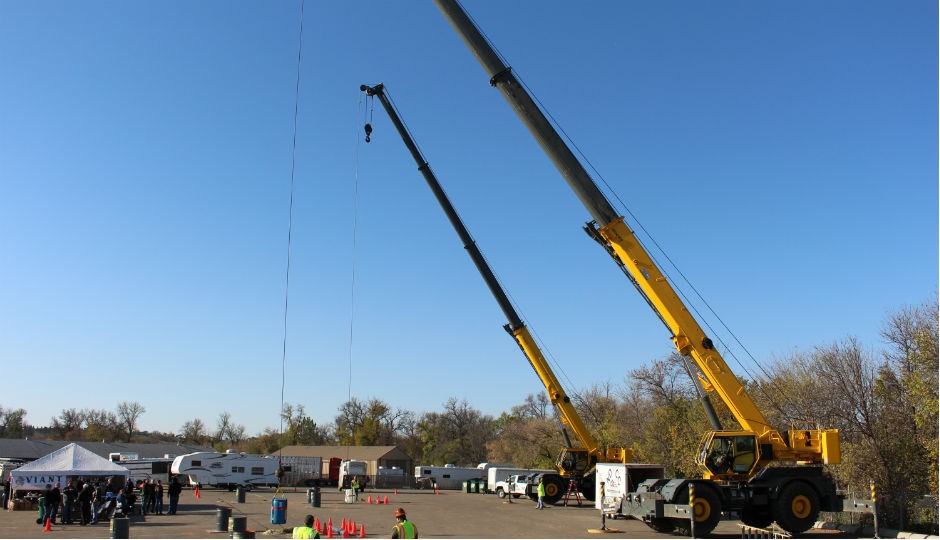 In cooperation with the 2015 World of Concrete show, Crane Institute Companies, CIC and Crane Institute of America, will bring two crane operator skills competitions to commercial concrete and masonry contractors, Feb. 3-5, 2015 in Las Vegas, Nev.
Making its debut is a Knuckleboom Crane Operator Challenge, which draws its skills assessment criteria from Crane Institute Certification's articulating boom crane certification. Three knuckleboom crane operators—one each day of the Outdoor Gold Lot Events—will win cash and other prizes.
In addition, four telescopic boom crane operators will be selected as World of Concrete regional finalists for the Crane Operator & Rigger Skills Championship, to be held later in 2015. CIC began holding regional events hosted by CIC Practical Examiners and their partners in October 2014. CIC Regional Crane Operator & Rigger Skills Competitions continue through June 2015. Grand Prize for the Championship is $10,000.
Judges and CIC Practical Examiners from Crane Institute of America and other organizations will oversee both crane courses, which are designed to assess precision, depth perception, and load control. "Tasks will reflect typical activities experienced on real job sites, which is a defining characteristic of CIC certifications," said Jim Headley, CEO of CIC and President of Crane Institute of America. In addition, operators will be evaluated on proper rigging selection, sponsored by Columbus McKinnon.
"Crane Institute Companies is pleased to have been invited to participate in World of Concrete's Outdoor Events. With educational sessions, hands-on activities, and hundreds of exhibitors, this show provides something for someone in every level of a construction contractor organization," said Headley.
Western Star, in partnership with its dealers Hoover Truck & Bus Centers and Modern Group, will supply the cranes for the Crane Operator & Rigger Skills Competition. Serving Eastern Pennsylvania, New Jersey, and Delaware, Modern Group is supplying an Elliott 36127R boom truck mounted on a Western Star chassis for the telescopic boom crane skills competition.
A Hiab XS622 articulating boom crane, also on a Western Star chassis, is sponsored by Hoover Truck & Bus Centers, based in New Jersey. Also supporting the event is HBC Radiomatic, which will provide radio remote controls for the Knuckleboom Crane Operator Challenge.
Both cranes will be set up on SafetyTech outrigger pads provided by DICA Outrigger Pads. "SafetyTech outrigger pads are strong and rigid, provide excellent load distribution, ergonomic safety, and ease of use with any outrigger supported equipment," said Kevin Koberg, Marketing Director for DICA.
Crane operators are encouraged to pre-register for the competition, as limited spots are available. Registration for the Crane Operator & Rigger Skills Competition is $50. All participants in the Crane Operator & Rigger Skills Competition must also be registered attendees of World of Concrete. To register for the show, visit www.worldofconcrete.com/Attendee/Register. The Crane Operator & Rigger Skills Competition will take place in the Gold Lot, in front of the North Hall.
Related Articles
Searching for the best-performing excavator? Your search ends here. We tested the Volvo EC350E and EC380E against a leading competitor in three different tests: trenching, truck loading and lifting capacity at reach. The results show a 20% difference in cost-per-ton, a 15% difference in tons-per-hour and a 12% difference in both operating costs and lifting capacity. See the results and put an end to your search for the best excavator.