New Versatile Hyster Tire Handlers Help Maximize Uptime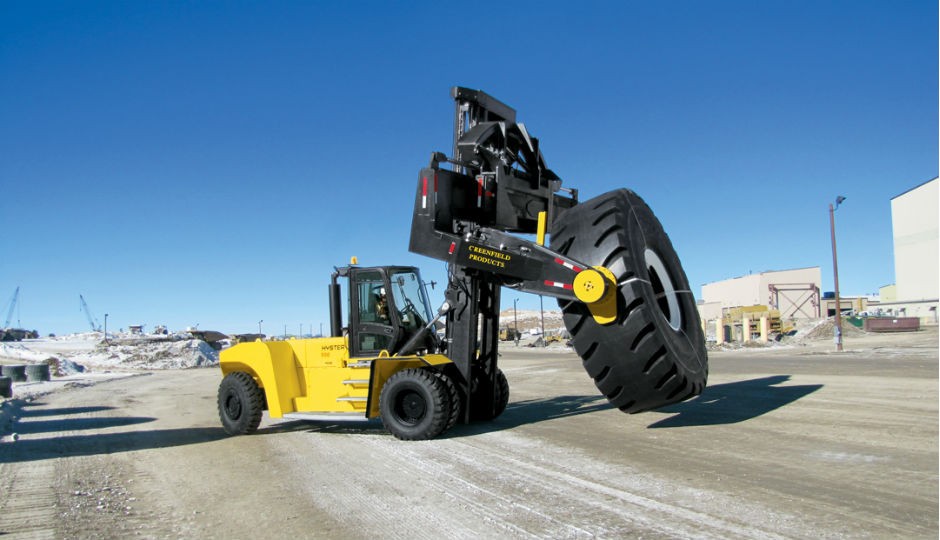 Hyster Company has introduced a new series of tire handling trucks for demanding applications in the mining, ports and intermodal industries. The Hyster tire handlers provide fast and effective "total tire handling solutions" that help maximize uptime while promoting operational safety.
In close association with Greenfield Products, LLC and Iowa Mold Tooling Company, Hyster now offers 21 tire handler configurations ranging from 5,000 to 36,000 pounds of handling capacity on the Hyster H120FT through Hyster H700HDS trucks. These versatile solutions are designed to handle tire diameters up to 164 inches, and are available in a number of integral models for dedicated tire handling, as well as hang-on quick-connect options for flexible transition between forklift and tire handler modes.
"Tire service and maintenance can be a significant operational cost contributor in the mining industry. Hyster understands the importance of maximizing uptime, and getting a tire exchange done right the first time, while providing for flexibility within these demanding applications," said Brett Schemerhorn, president of big trucks for Hyster Company. "These tire handlers are dual-function trucks with hang-on quick-connection options that can be reconfigured within an hour to convert a tire handler truck into a forklift. Having one Hyster lift truck that can do multiple specialized jobs can help reduce the number of service vehicles needed in the fleet and help reduce costs—in addition to providing the durability and toughness required for these operations."
Hyster tire handlers are designed for excellent all-around visibility of tire grab pads and fallback arms while providing enhanced rearward visibility. Optimized flow settings with fully calibrated hydraulics provide greater handling performance and controlled, predictable mounting of the wheel. When moving tires, the 2-stage mast offers exceptional visibility and easy viewing of the handling application.
Designed for optimum performance, the tire handler attachments feature grab pads that firmly grip the tire in the required position for changing. Hydraulically-actuated fallback arm protection is standard on most models for safe handling of tires in the horizontal position, while in park. The trucks also offer a minimized turning radius—a valuable benefit for operations with tight work spaces. All models are designed to be "plug-and-play" for easy onsite installation and assembly at the customer site.
Like all Hyster heavy capacity trucks, the new tire handlers feature an efficient powertrain with durable components, a heavy-duty front end and an industry-leading manufacturer's warranty. At rated capacities, the new trucks are sized to provide efficient tire handling solutions while consuming less fuel—resulting in lower initial acquisition costs and lower long-term operating costs.