Magna Tyres Group Launches New Tyre Magna M-Terrain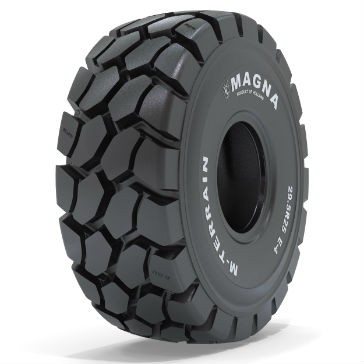 Magna Tyres has announced the launch of their new tire for articulated dump trucks: Magna M-Terrain. It is the first E4 rated tire of the Magna Tyres' product range especially designed for articulated dump trucks.
Magna M-Terrain is available in tire size 29.5R25, a common size for wheels of ADT's. Before the launch of M-Terrain, Magna Tyres already produced this tire size with the patterns MA02 (E3+/L3+ tread), MA05 and MA08 (both L5 treads) and MA05S (L5 smooth tread). With M-Terrain, Magna Tyres is able to offer their customers the tyre size 29.5R25 with an E4 tread pattern. Therefore, the manufacturer can better meet the requirements of end users.
The new Magna M-Terrain comes with some specific technical features. A more aggressive tread pattern provides excellent traction in challenging off-road conditions. Because of the wide tyre shoulder design, the protection of the sidewall and tire flotation are improved. The tread compound provides excellent resistance to cutting and abrasion.