New Bobcat S450 Skid-Steer Loader Features Improved Performance And A Tier 4 Non-DPF Emissions Solution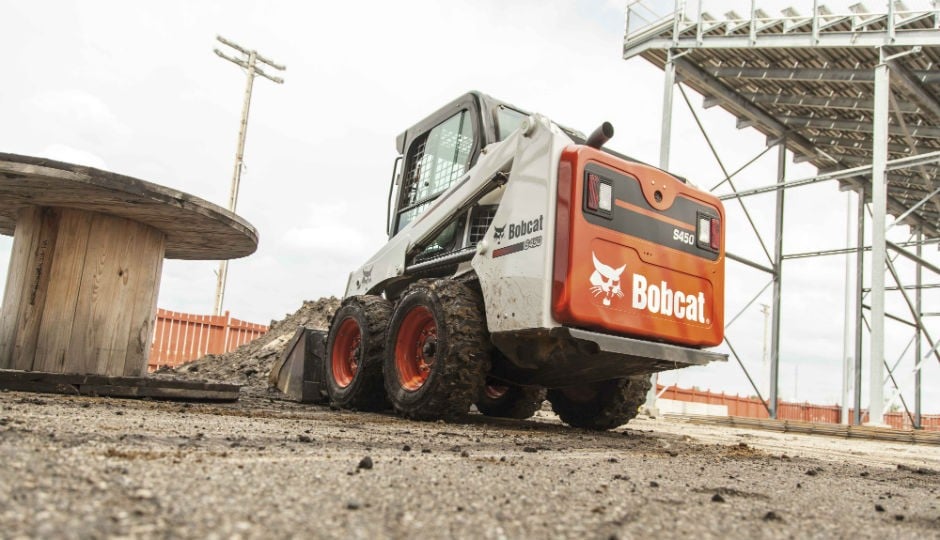 Bobcat Company has expanded its M-Series skid-steer loader lineup with the launch of the new S450, a loader that provides operators with improved comfort and performance — and is less than 5 feet wide for working in tight jobsites.
With a spacious cab, a 20 percent increase in auxiliary hydraulic pressures and a non-diesel particulate filter (non-DPF) engine, the 49-horsepower S450 replaces the K-Series S130 skid-steer loader. The Bobcat S450 is designed to serve a wide and challenging spectrum of tasks. By not requiring a DPF in the S450 engine, operators won't spend time cleaning the filter, completing the regeneration process or replacing the filter.
The radius-lift-path S450 loader has a low operating weight and an optimal reach for loading or unloading palletized materials from trucks or backfilling around foundations. For faster travel speeds when desired, the S450 has an optional two-speed drive, with a top speed of 6.5 mph in low range and 9.2 mph in high range when equipped with optional Selectable Joystick Controls (SJC).
The S450 joins the M-Series skid-steer loader line, which includes the S510, S530, S550, S570, S590, S630, S650, S750, S770, S850 skid-steer loaders. All M-Series loaders share features such as improved power and performance, good all-around visibility and outstanding operator comfort.
Non-DPF engine solution
The 1.8-liter engine in the S450 features a non-DPF engine solution. The Tier 4 non-DPF solution was achieved by designing an ultra-low particulate combustion (ULPC) engine. A specially designed engine combustion chamber significantly reduces the amounts of particulate matter. Therefore, Tier 4 emissions compliance can be achieved without using a DPF. In addition to eliminating the need for a DPF, the new engine used in the S450 loader has increased torque. This increase in torque is produced over a wide range of engine rpm, allowing operators of all skill levels to better utilize the machines' maximum performance.
For over a decade, Bobcat loaders have been equipped with standard machine shutdown protection that monitors engine and hydraulic functions. Bobcat Company continues to improve these investment-saving features for its customers. Prior to the new Bobcat engine, engine coolant and hydraulic oil temperatures were monitored. If these functions fell outside of their normal operating ranges, the system alerted the operator and shut down the machine to prevent catastrophic damage.
With the new Bobcat engines, machine shutdown is still included when needed. However, instead of shutdown being the only solution, the system monitors coolant and oil temperatures and manages the engine to prevent them from reaching a point where the machine must be shut down. This helps to prevents engine damage, minimizes engine wear and keeps operators working.
Another new feature of the Bobcat skid-steer loader line is cold weather protection. Anytime the engine temperature is too low, the loader will temporarily limit the maximum engine speed (rpm) to prevent premature component wear or failure. Engine idle speed is also raised slightly to help the engine reach its operating temperature faster. As soon as the engine warms up to a predetermined temperature, the protection mechanism will deactivate.
Cab innovations
As a part of the M-Series line, the Bobcat S450 has the largest cab door opening on the market for easy operator entry and exit. The loader's cab-forward design moves the operator closer to the attachment and provides unmatched visibility in all directions. Further visibility enhancements include larger side and rear windows to provide better visibility to the tires and back of the machine.
A popular option for larger Bobcat loaders, air conditioning is a new option available in the S450 to keep operators comfortable when the temperatures outside rise. A sealed and pressurized cab helps to keep operators clean and comfortable as they work, sometimes for an extended time, to improve productivity.
Another popular option for Bobcat loaders is the optional deluxe instrumentation panel, which intelligently monitors key loader functions — including fuel consumption — and the keyless start to help prevent theft. A 5-inch, full-color LCD screen offers better readability and easy-to-read virtual sweep gauges allow operators to quickly read and understand the machine's performance.
S450 owners may choose between standard foot pedal and hand lever hydraulic controls, the Advanced Control System (ACS) or the Selectable Joystick Controls.
Increased hydraulic performance
The hydraulic systems on M-Series loaders, including the S450, are designed for higher pressure — at 3,300 psi — which provides a 22 percent increase in attachment performance. The S450 also features a long-life hydraulic filter that lasts up to 1,000 hours — 500 hours longer than the S130.
Hydraulic flow and engine horsepower are matched to the loader's rated operating capacity, size and weight — producing a loader that will outperform higher-horsepower skid-steer loaders.
Increased uptime
Uptime protections on the new S450 include efficient machine cooling; a constant tension drive belt; solid steel tailgate; and improved tie downs. A specifically designed rear bumper extends past the tailgate to protect the S450 from obstacles — and related scrapes and bumps — on the worksite. The S450 is designed to work long hours on demanding jobsites with minimal time needed for routine maintenance.
The S450 also includes the hydraulically powered Bobcat SmartFAN. The cooling system draws cool, clean air from above and directs it out through two side vents. The radiator and hydraulic oil cooler are located above the engine for ease of access, yet are well-protected between the frame uprights.
QuickLook: Bobcat S450 Skid-Steer Loader
Rated operating capacity: 1300 lb. (590 kg)
Lift path: Radius
Engine: 49 hp Tier 4 diesel (36,6 kW)
Lift height to hinge pin: 9 ft. 2 in. (2,7 m)
Operating weight: 5027 lb. (2280 kg)
Auxiliary hydraulic flow: 16.7 gpm (63,2 L/min)
Auxiliary hydraulic pressure: 3300 psi
Length with standard bucket: 124.9 in. (3,2 m)
Width with bucket: 62 in. (1,6 m)
Height: 77.8 in. (1,9 m)