Dufferin Aggregates Recognized As One of Canada's Safest Employers for the Second Year in a Row
Employees Reflect Success in Embedding Health and Safety Culture at the Company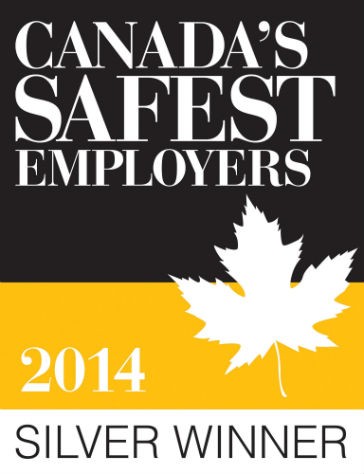 Dufferin Aggregates, a division of Holcim (Canada) Inc., is proud to have been recognized as one of Canada's Safest Employers in 2014. This honour identifies Canadian companies that are making a difference in promoting the health and safety of their workers, and operating a safe and successful organization. Dufferin Aggregates was selected as silver winner in the mining and natural resources category. This is the second time in as many years that the company has been recognized by the Canada's Safest Employer program.
Apart from meeting criteria related to excellent safety performance, part of the nomination process for the program involved employees to complete an Employee Safety Perception Survey, which helps to gauge the safety culture at an organization and how successful the company has been in communicating and embedding health and safety at a grassroots level. Being selected as one of Canada's Safest Employers continues a positive trend for the company, and demonstrates the results of its philosophy of Zero Harm which encourages positive, proactive prevention to create a culture that demonstrates a commitment to every person going home safely at the end of every day.
"Achieving our vision of ZERO Harm is an everyday challenge. I am proud of Dufferin Aggregates employees who have integrated their commitment to this goal into everything they do. They have embraced our vision and understand that our goal can only be reached if we all contribute individually and as a team - from our OH&S professionals, to management, to field employees," said Ed Persico, General Manager, Dufferin Aggregates.
"Occupational health and safety professionals from all across Canada work tirelessly to promote the safety and well-being of their workforce, said Amanda Silliker, Editor of Canadian Occupational Safety. "Canada's Safest Employers awards give the opportunity to recognize these hard-working individuals and celebrate the culture of safety they have helped foster in their organizations. From innovative safety programs, employee engagement and training to wellness programs and strong management support, these winning employers are setting an excellent example for others to follow."