Put To the Test: TEREX CC 8800-1 Crawler Crane with Boom Booster Kit Erects Wind Turbine with Ease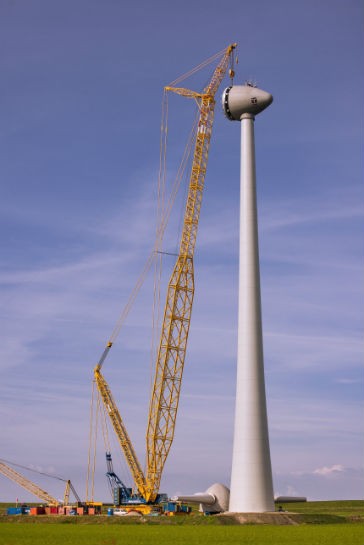 The Terex Boom Booster kit is a lattice boom structure with a width of 10 meters (32.8 ft) and a length of up to 72 meters (236 ft) that is designed to increase the lifting capacity of Terex CC 8800-1 crawler cranes. Terex Cranes developed the kit specifically for application scenarios with large loads and long boom systems, which is characteristic of the requirements involved in erecting large wind turbines. "It's as if the kit had been designed specifically for our project at Windpark Noordoostpolder. Needless to say, that's why we decided to try it out there," says Sarens project manager Hendrik Sanders. Sarens' client, ENERCON, had asked for a Terex CC 9800 lattice boom crane, but the latter was not available at the time due to Sarens' large workload. Because of this, Sarens instead offered the customer a CC 8800-1 crane in combination with a Boom Booster kit, which, when configured as required for the lifts at the wind farm, would make it possible to reach the lifting capacities of the next higher crane class without a problem. The increased reach means that the Boom Booster kit is further enhancing the versatility of Sarens' fleet, which has a total of six CC 8800-1 crawler cranes.
Brand new machine
Terex Cranes delivered the Boom Booster kit to the work site in the Netherlands straight out of the factory in Zweibrücken. As requested, the kit was not fully disassembled in advance, but instead was delivered with the frame pre-assembled in order to allow Sarens to save time during assembly at the site. The Sarens project manager has plenty of praise for the Terex Delivery Team. "Despite the fact that we were tremendously pressed for time and had a bunch of special requests, the guys got everything to us just the way we needed it, and right on time to boot – they really outdid themselves!" said Sanders. A total of twelve trucks and a special permit were needed to get the Boom Booster kit to Noordoostpolder in a week. Meanwhile, Sarens used 48 trucks to transport the crane (which was also new), and another 28 vehicles to take the superlift counterweight to its destination. Finally, another 28 trucks were required in order to get mats, other load distribution components, and work site equipment to the location. A total of 116 transport vehicles were used, not counting the additional vehicles that were needed to transport two assist crawler cranes – one belonging to the 100-tonne class and the other to the 200-tonne class.
Demanding preparation work for assembly
"The work conditions at the site were pretty unique," Sanders summarizes the situation at the site. First of all, it was necessary to set up an adequate supporting surface for the CC 8800-1 crawler crane. To do this, ENERCON had used track ballast to create a platform, so that the crane would end up three meters (nearly 10 ft) above ground level. The seven-meter-wide (23 ft) access ramp had a slope of 2.5% and a maximum permissible ground pressure of only ten tonnes (11 US tons) per square meter – not much for the heavy machinery that would be used. Because of this, the assist cranes always had to move on mats, and their final locations had to be leveled in order to ensure that the cranes would not be in an inclined position. To make things more difficult, there were trenches on both sides of the access road, making it necessary to set up a special bridge in order to be able to set up the booms. "All in all, we needed almost more time to prepare for the boom assembly process than for the process itself," says Sanders.
Boom Booster self-assembly
Of course, the team was eager to see how easy it would be to assemble the Boom Booster kit. As Sanders puts it, "It couldn't have been any easier. Sure, the Boom Booster kit is about 50% heavier than the CC 8800-1 crane's standard boom, but the way it was designed made self-assembly possible with the superlift. The setup time was pretty close to what the standard boom would have taken anyway."
The team scheduled a total of three weeks for setting up the crane, including the Boom Booster kit adapters and sections – a week longer than usual, since it would be the first time they would be dealing with the new equipment. This is also why the nine members of the Sarens team were provided with continuous support by a team of Terex Service technicians, who literally worked hand in hand with their Sarens counterparts. "Terex has an excellent after-sales service, but we hadn't expected such an outstanding level of support from the company! We were very pleasantly surprised," Sanders emphasizes. Thanks to good teamwork, the team was able to set up the CC 8800-1 crane with the Boom Booster kit and a BSSL and LF configuration for the upcoming lifts on time. With a main boom length of 138 meters (452.8 ft) – 72 meters (236 ft) of which were contributed by the Boom Booster kit – and an 18-meter (59-ft) LF extension, the CC 8800-1 crane reached a total boom system length of 156 meters (511.8 ft). This was enough to lift the wind turbine components to a hub height of 135 meters (442.9 ft) while using an angular offset of 20°. To do this, the superstructure was equipped with a counterweight of 295 tonnes (325 US tons), the central ballast amounted to 60 tonnes (66 US tons), and 400 tonnes (441 US tons) of superlift counterweight were used.
"With the crane set up like that, the rest was simply a routine job," says Cedric Debauche, one of the CC 8800-1 crawler crane's two operators. Once the two assist cranes had erected the ENERCON E-126's tower, it was up to the Terex crane to lift the last components to a height of 135 meters (442.9 ft): The 170-tonne (187 US-ton) nacelle using a working radius of 40 meters (131.2 ft); the 260-tonne (286 US-ton) generator using a working radius of 36.5 meters (119.7 ft); the 375-tonne (413 US-ton) hub, including its hub adapters, using a working radius of 33 meters (198.3 ft); and the three fiberglass rotor blades, each weighing 40 tonnes (44 US tons), using a working radius of 23.5 meters (77.1 ft). This whole process will be repeated for another 37 wind turbines, meaning that the CC 8800-1 crane will be staying at the site for about one year working together with the CC 9800 crane form ENERCON. "As far as we're concerned, the Boom Booster passed the test with flying colors. It has a compact design that makes it possible to handle enormous loads with long boom systems," Sanders happily summarizes. And, as a result, Sarens will be using Boom Booster kits worldwide: In fact, a new kit has already been delivered to Saudi Arabia using eleven 40-ft containers. The reason: In close cooperation with the customer, Terex engineers took advantage of the Boom Booster kit's single-tube design in order to come up with an extremely compact and cost-effective shipping configuration, making it possible to quickly and flexibly use this innovative solution anywhere in the world.
About the CC 8800-1 lattice boom crawler crane
The Terex CC 8800-1 is one of the most powerful series-produced mobile cranes in the world. Offering a maximum lifting capacity of 1,600 tonnes (1,764 US tons) and a maximum load moment of 24,002 mt, its superlift radius ranges between 19 and 30 meters (62 and 98 feet). With an SWSL luffing fly jib boom configuration, the crane can reach a maximum boom length of 216 meters (708 ft). The crane is designed for worldwide transportation – none of its components is wider than 3.5 meters (11.5 ft), and almost all of them have a shipping weight of less than 40 tonnes (44 US tons). In addition to the advantages of its working range limiting function and a ground pressure display, the CC 8800-1 lattice boom crawler crane's IC-1 control system also provides extensive auto-diagnostic functions to simplify on-site troubleshooting and increase uptime. Two identical independent drive units, as well as a second independent control system, further increase uptime on the job site. As a result, the CC8800-1 crawler crane can continue its work even if one of its engines or control systems fails (e.g., in the case of a lightning strike). An optional TWIN kit can be used to increase lifting capacity to 3,200 tonnes (3,527 US tons).
In addition, the new Terex Boom Booster kit can increase lifting capacity by up to 90% – especially when large main boom lengths and steep boom configurations are involved. The kit can be disassembled into multiple sections and transported in 40-ft open-top containers, making it fast and cost-effective to ship. It is available both with new cranes and as a retrofit for existing models.