High Efficiency Filtration Delivers Clean, Dry Diesel Fuel for Equipment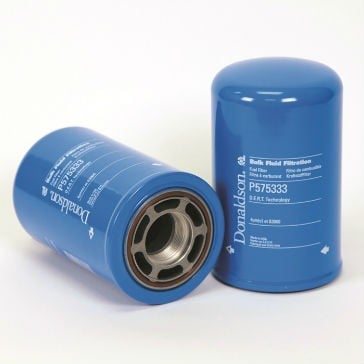 Donaldson's new P575333 fuel filter is a compact version of their P568666 fuel filter and is designed specifically for use on slip tanks, mobile service trucks, inside fuel dispensers and other locations where space is limited.
Clean fuel is vital for high pressure common rail (HPCR) fuel injectors on today's diesel engines. Fuel system pressures approach 40,000 psi and clearances can be as small as one micron. This new compact filter provides the most efficient filtration Donaldson has to offer, in a size that fits into tight spots, where superior filtration was previously not possible.
Donaldson's P575333 fuel filter is designed to filter diesel fuel to an ISO 4406 cleanliness level of 14/13/11 in a single pass. Diesel fuel filtered to less stringent cleanliness levels will not always stop the contamination that can damage HPCR fuel injection systems.
"The need to deliver clean fuel in every situation is more important than ever before," said Scott Grossbauer, global manager of clean fuel and lubricant solutions at Donaldson Company.
"Microscopic dirt particles of one to two microns can destroy an injector system or prematurely plug onboard fuel filters. The compact size of this new product means diesel fuel users can now get superior filtration in small spaces, where our single pass premium filters previously did not fit."
Donaldson Clean Fuel Solutions is a business unit dedicated to the bulk filtration of diesel fuel.