Work Truck Show 2012 App Helps Navigate Sold Out Show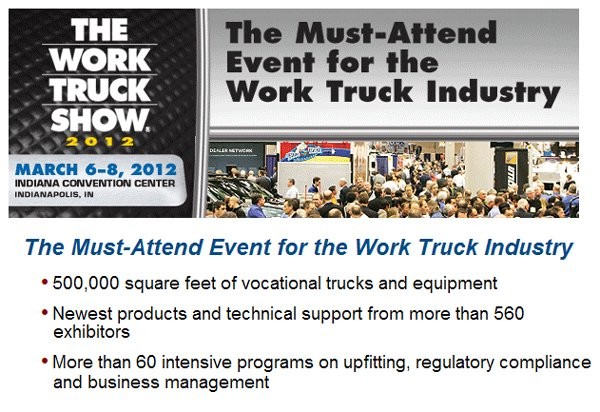 Booth space at The Work Truck Show 2012 is sold out. More than 550 companies have reserved exhibit space at North America's largest work truck event, held March 6-8, 2012, at the Indiana Convention Center in Indianapolis. More than 60 of these exhibitors have announced plans to introduce new work trucks, components and equipment at the Show. To help attendees maximize their time at the event, NTEA has released a new app for smart phones and devices including the iPhone, BlackBerry, Android and iPad.

Educational programming at the event, including the Green Truck Summit and more than 60 intensive educational sessions, begins March 5.

"The Work Truck Show is the one event where anyone who builds, buys or uses vocational trucks for any application can find the latest products, from the smallest latch to a full-size work truck," says Frank Livas, NTEA convention chairman and president of Brake & Clutch, Inc. (Salem, MA). "I can't wait to see what our industry's innovative companies have come up with this year!"

The new Work Truck Show app, available for most mobile devices, enables users to access the Show floor plan, browse educational sessions, view and schedule appointments, and find exhibitors that are featuring products in the New Product Spotlight and Green Product Showcase programs. To get it, scan the QR code at http://www.ntea.com/worktruckshow/index.aspx?id=25950 or visit www.guidebook.com/getit with a smart phone or device. Follow the prompts to download the Guidebook app. Then, open the app, select "Download Guides" and search for "The Work Truck Show."

For a sneak peak at many of these products, use the Work Truck Show app or go online to www.ntea.com/worktruckshow/, select "Floor Plan" from the "About the Work Truck Show" drop-down menu, and then click on "Featured Exhibitors" to see a list of current participants. Click on a company name for more information about its new product(s).

Produced annually by NTEA, The Work Truck Show covers more than 500,000 square feet with Class 1-8 vocational trucks and equipment. It brings together thousands of work truck professionals, including fleet managers, equipment buyers, maintenance personnel, manufacturers, distributors and dealers.

To register, or for more information, visit www.ntea.com or call 1-800-441- 6832.
Company info
37400 Hills Tech Drive
Farmington Hills, MI
US, 48331-3414

Website:
ntea.com
Read more