Crusher Buckets Create Business Opportunities for Excavator Owners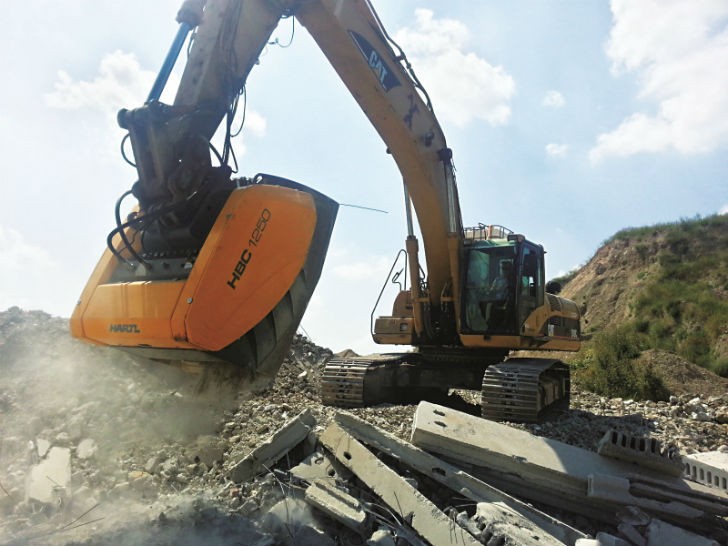 Hartl Crusher and Rockland Manufacturing have joined forces in North America. Hartl Crusher is an Austrian company that specializes in crushing and screening equipment. Rockland Manufacturing has been designing and manufacturing allied construction equipment in North America for over 60 years and has earned a reputation for world-class service. Together they will bring Hartl crushers and screeners to the North American market.
With over 40 years of innovation, experience and high quality, Hartl says they are s a leader in the crushing and screening arena. The company has applied their expertise to design a world-class excavator-mounted crushing bucket. "Quattro" movement of the crushing jaw allows Hartl crushing buckets to maximize production of not only tons per hour but also of usable material.
Cast from a combination of alloys for high strength and high-abrasion resistance, the crushing jaws are built to last. The Hartl crusher offers a flexible, mobile and economical crushing solution for rock, as well various materials found in recycling and demolition applications. The crusher features a centralized lubrication system that does not require disassembly, making maintenance easy and quick.
Hartl crushing and screening equipment creates new opportunities for excavator owners wanting to grow their business by accessing the world of recycling.
Kim Lenker of Lenker Excavating is an example. He uses an HBC 950 bucket crusher with a 50,000-pound Volvo excavator for small- to medium-size demolition jobs of 500 tons up to 5,000 tons. Depending on the material, he crushes from 50 to 80 tons per hour.
"We use it in our demolition work and on our site grading work," said Lenker. "By crushing rock, concrete, blacktop or any kind of products that we are trying to re-use on the job sites, it saves disposal cost and purchasing new materials.
"The reason we bought it was for mobility since we move around to many smaller sites. We can disconnect the attachment, move the machine and be set up in an hour at a different location.
"It's also quiet, very quiet. Because of how quiet the machine is, we can work in a residential neighbourhood and not have anyone complain."
Crushing on the job site saves them trucking costs and disposal fees. In their area, it's becoming more and more of a problem getting rid of materials. "So this saves us a lot of hassle if we can actually crush the material right on site and re-use it right there," said Lenker.
He added: "It's an attachment on a Volvo excavator so we don't use as much fuel as what a big crusher would. We don't have the dust problems. All those factors play a big part right now, especially when you're looking at government work. And even some in the residential sector are really pushing for green, so it gives us an avenue to market our company a little better."
Maintenance has been very minimal. "With only having to grease at one port at 40 hours and the other one at 80 hours, it removes some of the possibility for operator error," Lenker said.