Smartloader Logic on Komatsu WA200-7 Wheel Loader Provides Optimum Torque for the Job Required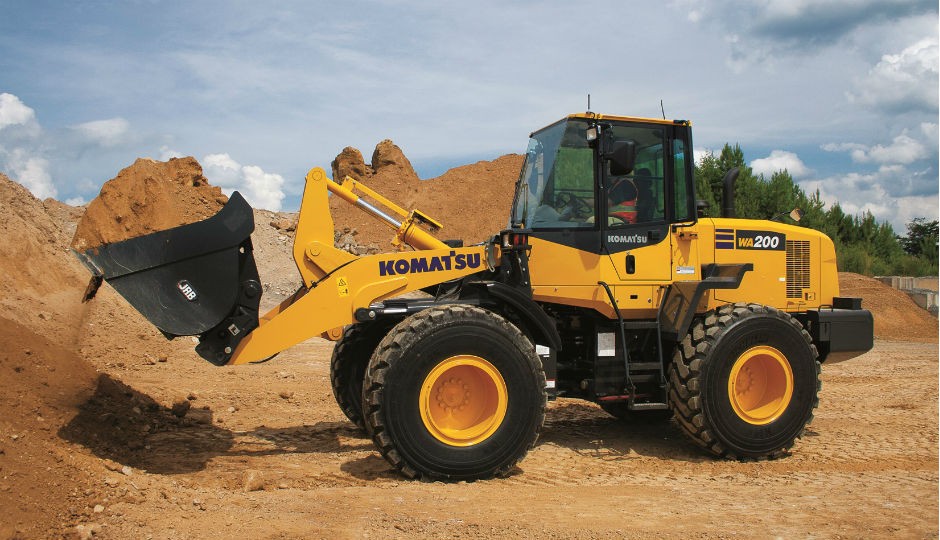 The WA200-7 wheel loader is powered by a net 126 hp (94 kW) Tier 4 Interim Komatsu engine with an electronically actuated, Komatsu Variable Flow Turbocharger (KVFT) and Exhaust Gas Recirculation (EGR) valve. This results in precise air management as well as long component life. The simplicity of this configuration on the 4-cylinder engine provides a robust and reliable system without additional hydraulic lines.
Komatsu SmartLoader Logic provides the optimal engine torque for the job required. It helps save fuel by automatically decreasing engine torque when the loader is not working as hard, such as when driving with an empty bucket. SmartLoader Logic functions automatically, doesn't interfere with operation, and saves fuel without decreasing production.
The WA200-7 (replacing the WA200-6 and the WA200PZ-6) weighs between 25,342 and 26,070 pounds (11,495 and 11,825 kg). It uses Komatsu's versatile Parallel Z-bar (PZ) loader linkage. This linkage combines the advantages of a parallel lift linkage for pallet handling and high tilt forces for large attachments. The PZ linkage also offers large breakout and lift force, which make bucket-filling quick and easy and also aids in digging performance.
Now in its second generation, the Komatsu hydrostatic (HST) drivetrain features large pump capacity for high efficiency and responsiveness. The dynamic-braking effect of the HST slows the machine when the accelerator pedal is released and this dynamic-braking effect, combined with wet disc brakes, minimizes brake wear. The result is enhanced control, especially in tight spaces.
The electronically controlled HST drivetrain features Komatsu Traction Control System (K-TCS) which helps facilitate operation in soft or slippery ground. Simple traction controls feature MAX, Traction Control, and S-Mode. Variable Speed Control (VSC) engages in first gear range and allows the operator to set a maximum speed between 3.2 and 8.9 mph. This is particularly useful for applications such as mowing or broom use.