2015 Ford F-150 Is 700 Pounds Lighter, Tows More And Has Two Engine Options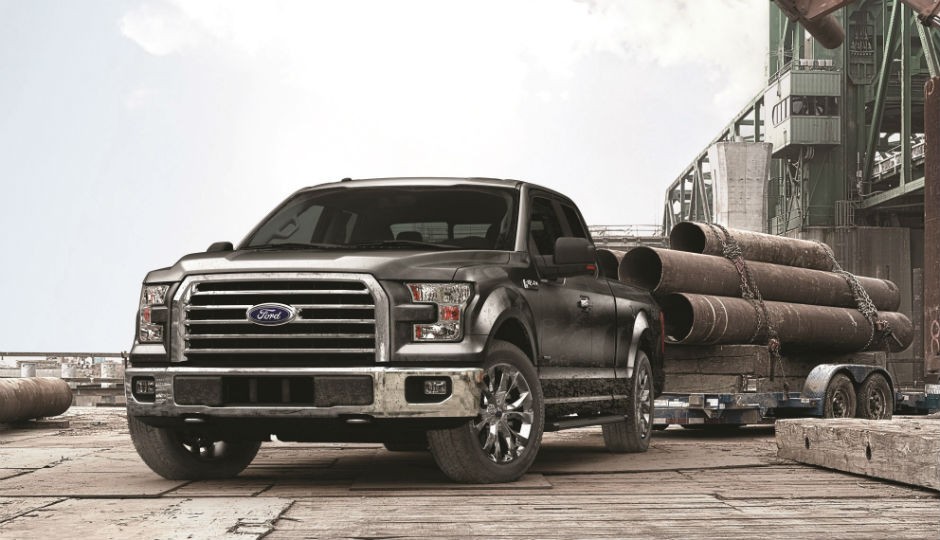 Ford has raised the performance of their 2015 model F-150 light-duty pickup truck with a choice of a new 2.7-litre EcoBoost using standard Auto Start-Stop or a new 3.5-litre V6 that has twin independent variable camshaft timing.
"The 2015 F-150 is the most capable F-150 yet, while shedding up to 700 pounds," said Bob Fascetti, vice president, Powertrain Engineering. "These two new V6 engines – the 2.7-litre turbocharged EcoBoost and normally aspirated 3.5-litre Ti-VCT – set a new standard for Ford for capability and efficiency."
The twin-turbo 2.7-litre EcoBoost V6 features a new design that delivers power and performance in a strong, smart package. The engine produces 325 horsepower and 375 foot pounds of torque – improving the power-to-weight ratio of the 2015 truck by 15 per cent over the 2014 5.0-litre V8-equipped F-150 with similar torque output, thanks to vehicle light-weighting.
The 2.7-litre EcoBoost 4x2 has a maximum payload rating of 2,250 pounds (1,021 kg) and maximum tow rating of 8,500 pounds (3,856 kg), ideal for meeting mid-range capability needs.
Boosting 2.7-litre EcoBoost fuel efficiency is the debut of standard Auto Start-Stop technology for F-150. This technology, specially tuned for truck customers, shuts off the engine when the vehicle is at a stop. When the brake is released, the engine restarts quickly. Auto Start-Stop helps reduce fuel consumption and emissions when the truck is stopped and the engine is off. The technology is off when towing or in four-wheel-drive mode.
The 2.7-litre EcoBoost engine also features Ford's first use of a compacted graphite iron cylinder block in a gasoline engine, the same material used in Ford's 6.7-litre Power Stroke turbo diesel V8 in Super Duty trucks. The composite CGI/ aluminum cylinder block saves weight while providing strength where it's needed most for durability.
Thanks to vehicle weight savings, the standard 3.5-litre V6 with Ti-VCT offers a five per cent improvement in power-to-weight ratio over the larger 3.7-litre V6 in the 2014 F-150, with better fuel efficiency and performance.
The 3.5-litre V6 produces 283 horsepower and 255 foot pounds of torque. The engine has a maximum payload of 1,910 pounds (866 kg) and a maximum tow rating of 7,600 pounds (3,447 kg) – unsurpassed for standard V6 light-duty pickup trucks.
Designed for power and durability, the 24-valve, 3.5-litre, V6 features a valve train with direct-acting polished mechanical buckets with twin independent variable camshaft timing for impressive torque across a wide rpm range. Six-bolt main bearing caps, a fully counterweighted forged steel crankshaft and cast exhaust manifolds are designed for heavy-duty operation.
Both the upper and lower intake manifolds of the 3.5-litre V6 are tuned for responsive power, and both the intake manifolds and cam covers are composite formed to reduce weight. The die-cast aluminum cylinder block features bay-to-bay breathing to reduce internal pumping losses, while a deep-sump oil pan contributes to extended oil-change intervals.
Extensive research by Ford engineers led to the use of more advanced materials on the 2015 F-150 than found in previous trucks. Military-grade aluminum alloys make the new truck's body lighter, stronger and more resistant to dents.
Overall, F-150 is up to 700 pounds (318 kg) lighter – helping the truck tow and haul more, accelerate and stop faster, and operate more efficiently than the previous F-150. High-strength steel in the frame and high-strength aluminum alloy throughout the body produce an inherently stiffer truck with greater dent and ding resistance. The aluminum upper body sits on a fully boxed ladder frame with more high-strength steel than ever to make it stronger yet lighter.