The Dino DC400Ri Combining the Best Features in One Surface Drill Rig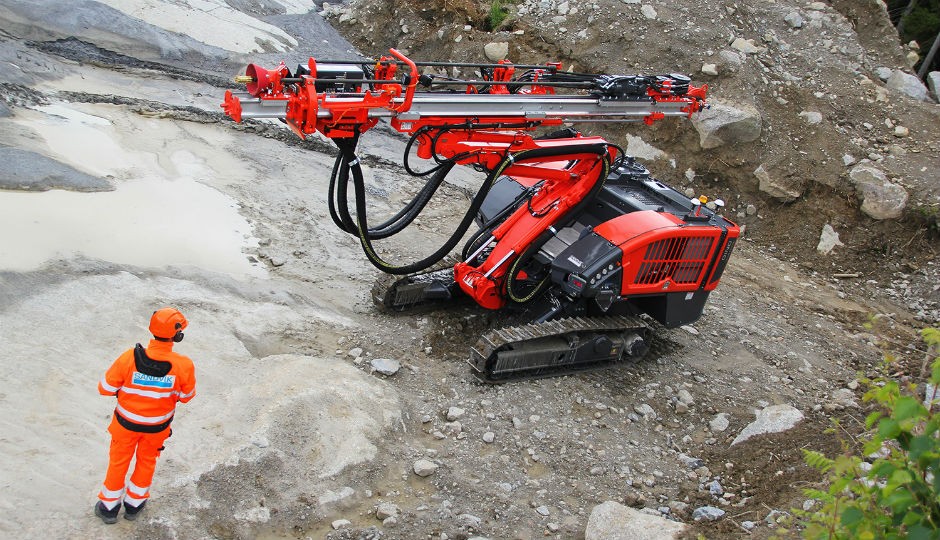 Sandvik Construction added a completely new radio remote controlled drill rig to its surface top hammer drill rig offering. Engineered from its conception to combine all the best features in one unit - drilling performance with high hole quality, easy maintenance and excellent maneuverability, as well as attractive exterior - the Dino DC400Ri is ready to take the lead in surface drilling excellence.
Dino DC400Ri is a hydraulic, self-propelled, self-contained, crawler based surface drilling unit with full radio remote control operation for 51 – 76 mm hole sizes. It offers top drilling performance with a new RD414 rock drill, a robust boom that has the largest coverage area of its size, a patented collaring guide and an economical Tier4 Final engine. Due to its versatility the Dino DC400Ri is the perfect machine for drilling and blasting contractors, but suitable also for quarries and the municipal sector. Its typical applications consist of road construction, demolition works, secondary breaking, foundation drilling and trenching.
Unbeatable drilling performance combined with fuel saving systems
Representing the latest in technical engineering excellence, the Dino DC400Ri combines features that significantly improve drilling performance and hole quality. The new, extremely fast RD414 rock drill has been specially designed for the Dino DC400Ri. This provides smooth penetration, yet is kind to the rock tools, whilst a new patented collaring guide makes starting a hole easy and accurate even in inclined rock. The completely new boom, with a robust design and the largest coverage area in its class, ensures perfect support for the feed during drilling, but also enables more drilling hours from one single setup. On top of this, the powerful tramming motors and low tramming height with its low center of gravity, as well as full radio control for the entire rig, ensure that the Dino DC400Ri will respond with precision even in the most uneven terrain.
Dino DC400Ri comes equipped with the latest fuel saving systems. These consist of electric load sensing, ambient controlled cooler fans, a hydraulic compressor control system that utilizes the latest technology, optimized airlines and fuel efficient Tier 4 Final engine. All of these features combine to provide very low fuel consumption. Additionally easy maintenance through ground level service points, onboard diagnostics and small transportation dimensions, are benefits resulting from the completely new drill rig layout.
Built on experience and learning from our customers
Dino DC400Ri is a result of years of engineering and industry experience. "Dino DC400Ri really is a drill rig that combines all the best features that result from many years of engineering experience gained in this business, all combined with what we have learnt from our customers," says Ilkka Lahdelma, Product Line Manager Surface Drilling, Sandvik Construction.
| | |
| --- | --- |
| SANDVIK DINO IN BRIEF | Dino DC400Ri |
| Hole Diameter | 51 - 76 mm (2" - 3") |
| Rock Tools | R32, T35, T38 rods |
| Rock Drill: | RD414, 14 kW / 18.8 hp |
| Engine type | Volvo TAD570VE Tier4 Final |
| Engine Output | 105kW / 140.8 hp |
| Flushing Air | 3,5 m3/min, up to 8 bar |
| Control Method | Radio Remote |
| Total Weight | Appr. 10000 kg / 22046 lbs (without options) |
Company info
Related products