KPI-JCI and Astec Mobile Screens Launches New GT440 Impact Crusher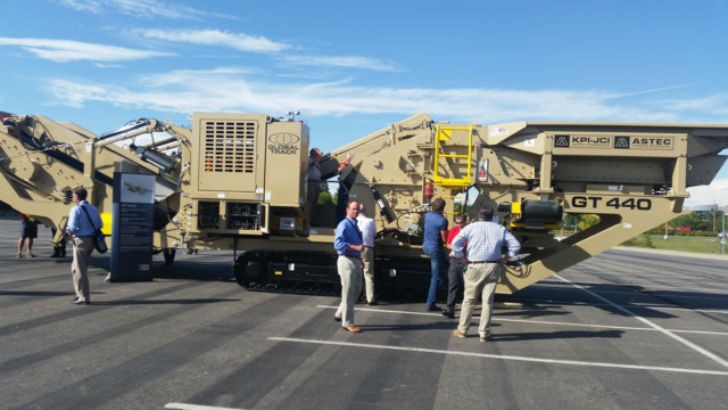 KPI-JCI and Astec Mobile Screens launched its new GT440 Horizontal Shaft Impact Crusher (HSI) during the 2014 National Dealer Conference, in Denver, Colorado.
The new track-mounted GT440 features an Andreas 4240 Horizontal Shaft Impact Crusher, which includes a 3- or 4-bar rotor configuration, allowing the end user to choose the best solution for the application, said Ron Griess, product manager for KPI-JCI and Astec Mobile Screens.
The GT440 utilizes a vibrating grizzly feeder with a large hopper and with an optional grizzly pre-screen designed to keep the crusher fed and operating efficiently. The grizzly pre-screen consists of independent vibrating fingers that resist blinding and plugging. The replaceable pre-screen module provides multiple settings for scalping unwanted material. The crusher's hydraulic drive optimizes crusher capacity without sacrificing blow bar wear.
The 5' x 10', two-deck screen offers 100 square feet of screen area, up to 50 percent more screen area and production potential than competitive models, Griess said. The two-deck screen provides quicker, more thorough screening, as well as closer spec products.
The addition of the track-mounted horizontal shaft impact crusher to the Global Track product line provided dealers and end users with a cost-effective, highly productive and mobile option. The Global Track product line features quarry-duty, time-proven components and was developed to be the perfect rental tool and ideal for operations in remote locations.
"With the addition of the GT440 track-mounted horizontal shaft impact crusher, we continue to offer our end users and dealers the complete solution for their operations in the aggregate, recycling and construction industries," Griess said. "As with our other offerings, we remain committed to producing only the highest-quality, quarry-duty equipment."