New Cat E2 Series Mini Hydraulic Excavators Get New High Definition Hydraulic System, New Cab and New Source Facility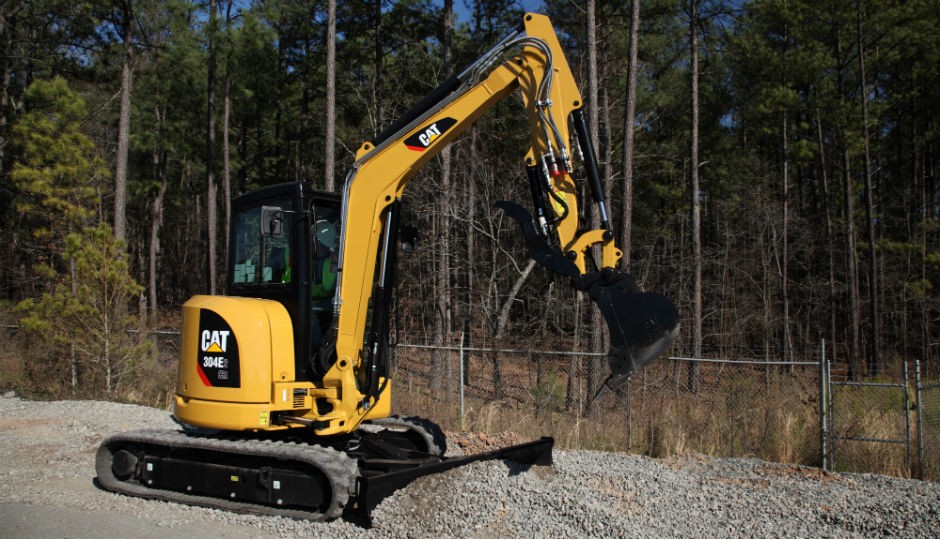 The five new compact radius Cat E2 Series Mini Hydraulic Excavators—303.5E2, 304E2, 305E2, 305.5E2 and 308E2—will all be produced at Caterpillar's new 850,000 square foot facility in Athens, Georgia, USA and will also use the new High Definition Hydraulic system.
The E2 models are designed to carry on the solid performance of their E Series predecessor, while adding even greater value for the customer. For example, the new High Definition Hydraulic (HDH) System in the E2 machines provides a load sensing and flow sharing capability leading to operational precision, efficient performance and greater controllability. The simple valve architecture reduces heat, which leads to a reduction in hydraulic instability and improved overall efficiency.
The 305.5E2, 305E2, 304E2 and 303.5E2 all include a redesigned operator station. This update includes a wider opening, a high quality suspension seat, easy to adjust arm rests and an overall improved ergonomic layout for operator comfort and productivity. Additionally, a new interlocking front window system, updated operator interface controls and 100% pilot controls provide a best-in-class operator station and customer value. Smart Technology is a new feature of the 303.5E2. Through the integration of this technology with the 23.5 hp (17.6kW) engine, the machine is able to meet and exceed performance of the 303.5E. Additionally, testing on the 303.5E2 revealed an 8% fuel consumption improvement and 7% greater efficiency over the E series.
All the E2 series models are equipped with the digital control panel specially designed for Cat Mini Excavators—COMPASS—Complete Operation, Maintenance, Performance, and Security System. Built into the COMPASS monitor are an anti-theft system, which requires a five-digit alphanumeric password to start the machine, an automatic engine-idle selection, which drops engine rpm to idle after 4 seconds of inactivity and an adjustable auxiliary-flow control for work tools. Both main-line and optional secondary auxiliary-hydraulic systems can be adjusted on a scale of 1-15 through the monitor for added control.
The E2 Series models also continue to include the standard features and benefits customers expect from a high-quality mini hydraulic excavator. For example, automatic two-speed, 100% pilot controls, superior bucket rotation, blade float and safety are built into every Cat mini excavator. The automatic two-speed feature allows the operator to put the machine in "high speed" (rabbit) and not worry about manually kicking down to low gear while turning, digging, or roading in tough conditions. One hundred percent pilot controls offer consistent and long-lasting controllability with reduced owning and operating costs often associated with mechanical linkage. The unique design of the Cat MHE linkage, bucket, and cylinders on the 3 – 6 ton machines allows for an industry leading 200 degrees of bucket rotation. The unique bucket shape also maximizes the volume of material per scoop without sacrificing digging performance and the boom and stick cylinders have built-in dampening to cushion the impact of the rod & piston against the stops when it reaches full extension or retraction.
Additionally, the blade float function allows the operator to drag the blade backwards (away from the cutting edge side) and the blade will "float" along the contour of the ground with only the weight of the blade bearing down to smooth the site after grading and backfilling holes leading to ease of operation and productivity.
Finally, all Cat MHE from 3.5 metric ton to 8 metric ton are ROPS, TOPS and Top Guard Level 1 certified; include the Cat Interlock (hydraulic lockout) System; a certified accumulator which allows for auxiliary pressure to be released, making connecting and disconnecting work tools safer and easier; and a travel alarm. All of these safety features are standard on the E2 model lineup, with the travel alarm optional in Europe.
Company info
Related products