Level Pro System Simplifies Milling of Streets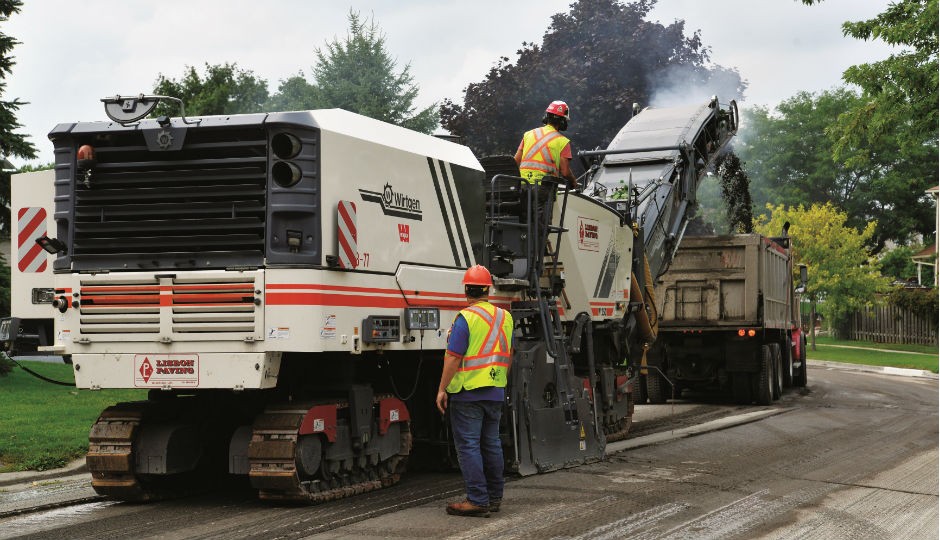 A large cold mill typically is the grinder of choice for big dual-lane highway projects but an asphalt contractor in Ontario is finding that it's perfect for milling suburban residential streets as well.
"We're very much a hands-on company," said Vic Araujo, project supervisor and operator, Lisbon Paving Co., Ltd., Bradford. "We've had our W 250 almost a year and we use it for both small and large jobs."
In August, Lisbon was milling the streets of Luesby Lane and Jacarandah Drive for the Town of Newmarket. "We're profiling the street and in some areas by the curbs we're taking 40 mm, or an inch and a half," Vic Araujo said. "But at the centreline we're keeping the cross slope at two percent, so the amount of asphalt removed varies. It might be 40 mm, or it might be nothing."
Lisbon's W 250 – like its successor, the brand new, Tier 4 interim-compliant W 250i – offers a selectable dual-engine design which merges virtually two machines in one. For the new W 250i, it's a high-performance milling machine with the full power of two engines totaling 738 kW (990 hp), or a cost-efficient mill with a single engine of 447 kW (600 hp) to economically remove softer asphalt surface courses, thinner lifts or porous asphalt. Lisbon's W 250 tops out at 730 kW (980 hp) with both engines driven, and 440 kW (591 hp) with a single engine.
"The machine might be a little bigger than most contractors would use for this purpose," said Carlos Araujo, vice president, Lisbon Paving. "But we like to have the horsepower and that's the bonus of having the two-engine system. We can cut down on horsepower when we can but if we need it for a bigger job, we've got it."
In Newmarket, Lisbon was using just one of the two engines for this relatively light work. "With this profiling, we're not working the machine really hard, so that's why we only need the one engine," Vic Araujo said. "It's not like we're taking out 6 inches!"
There, Lisbon was milling and paving 40,000 square metres. "We will come back and pave a 12.5-mm nominal minimum aggregate size (NMAS) Superpave mix," said Arlindo Araujo Jr., project manager and operator, Lisbon Paving. The PG 58- 28 mix is not unusual for a municipality, he said. "We pretty much exclusively use Superpave mixes," he said. "They specify it." Lisbon retains the RAP it mills and the Superpave mix that would go down would contain 15 percent RAP.
Company president Arlindo Araujo Sr., who founded the company in 1973, made the final decision to acquire the W 250. The W 250 and W 250i mills feature three selectable cutter drum speeds, for a broad range of applications. For standard milling jobs, such as the removal of a surface course, they can operate with the medium milling drum speed of 1,800 rpm, which produces reclaimed asphalt pavement (RAP) at preferred aggregate sizes. When removing thin surfaces at the maximum advance rate, the high milling drum speed of 2,000 rpm may be selected, producing a superior milling texture. And for maximum productivity at lowest cost, the slowest speed of 1,600 rpm is the best choice for reduced fuel consumption and low cutting tool wear.
"We are using the second, or middle, speed on the drum," Vic Araujo said. "It saves us a lot of fuel. The engine doesn't have to work as hard; I think I only burned 250 litres today, which is really good. With our other same-size-class mill, at 900 hp, we would burn 400 to 500 liters per day." While the W 250 was cost-effective on the residential streets, Lisbon also uses it for much bigger jobs. "Last Friday night we were cutting 8 inches deep and were using both engines," Vic Araujo said.
Controlling particulates
A unique system is keeping particulate emissions under control. The W 250's Vacuum Cutting System (VCS) reduces particulate emissions at the cutter head, keeping abrasives out of moving parts for prolonged equipment life and creating a better working environment.
The VCS creates negative pressure which pulls fine particles from inside the drum assembly into the milling machine's short conveyor channel. There, a suction hood located above the conveyor channel sucks the particles into two hoses which extract the particulate matter directly to the long conveyor of the loading system and into the truck.
In addition to the new W 250, Lisbon has two W 500s – one of which was at work in Newmarket – and recently retired a W 1900 DC.
'Automatics' a plus
Why use this large mill on a suburban residential street? Its features and productivity make it a good choice, Vic Araujo said. "Its automatics work really well in that application as you are trying to correct the road," he said. "The display of the Level Pro system actually tells you the slope. With some controls you have to go into it and look for the slope but the Level Pro display tells you right there. You can change on the fly and it makes it much easier."
A Level Pro control is located on either side of the mill and each is connected to the machine by cable so it can be lifted off the side and used if the ground man wants a closer look at the cutter while adjustments are made, even if the machine is moving forward.
"Level Pro makes the machine easier to operate," said Arlindo Araujo. "It shows you the grade and slope. If you have to 'flip over' – for example, coming up on an obstacle that will change the grade or slope – you can set the settings, change over and then seamlessly go back to the original settings."
As operator – utilizing Wirtgen's exclusive WIDRIVE system – Vic Araujo also can access the Level Pro display at the operator platform, along with two video screens which are fixed on critical areas of the operation. The top screen serves as a multi-functional control screen, displaying operational parameters and maintenance details, but also can display the conveyor feed into the truck hopper, and defaults to a back-up camera when the machine is put into reverse. The other screen can display important points like either side of the cutter.
The entire video screen/Level Pro display is post-mounted so it can be swung over to the other operator position if needed with no change in settings required. "You can run the machine from one side of the platform, while seeing what's happening on the other side – for example, a manhole or catch basin coming up or someone in the way," Vic Araujo said.
"Other machines may be less complex in design but our Wirtgen has better controls," said Orlando Araujo, Lisbon Paving. "It has cameras and all those other features that make it a lot more user friendly and easier to operate."