Toro Introduces New Riding Trencher
RT1200 delivers powerful digging performance and increased productivity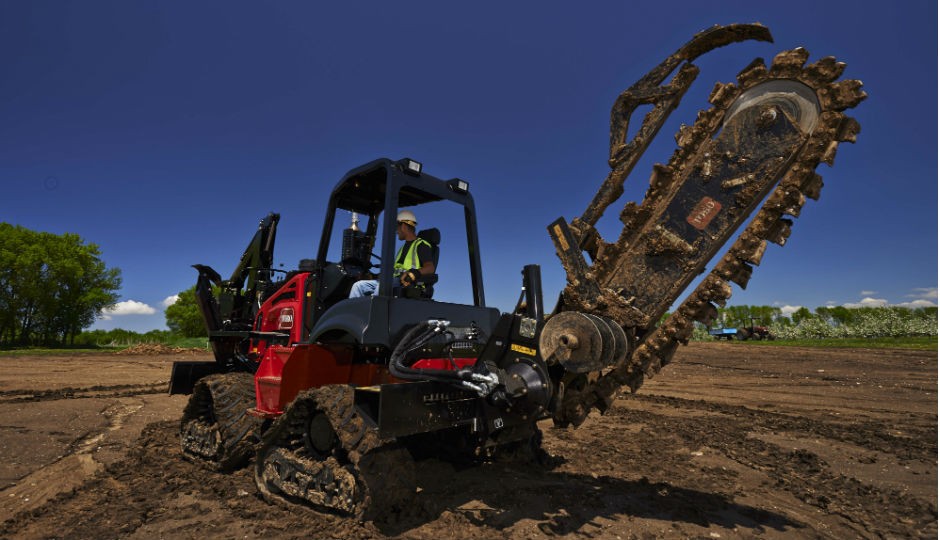 The Toro Company has launched the RT1200, an all-new riding trencher designed with versatility and productivity in mind. Toro offered a sneak peek of the RT1200 riding trencher during the 2013 International Construction and Utility Equipment Exposition (ICUEE), and the unit is now available through Toro's experienced underground dealer network.
The Toro RT1200 offers a number of unique features to meet the needs of utility contractors. Built on a tool carrier chassis, its design is extremely versatile to allow contractors to select from tracks or tires and a variety of attachments – including a backhoe, 6-way backfill blade, rocksaw, vibratory plow, reel carrier and the Toro-exclusive Heavy-Duty (HD) trencher drive.
The Toro HD trencher drive consists of three major components – a flywheel, torsion shaft, and planetary gearset. The flywheel stores inertial energy, ensures efficient hydraulic system operation and keeps the chain consistently running in tough digging conditions, the torsion shaft absorbs shock loads, and the planetary gearset multiplies the hydrostatic motor torque for added digging power. Added up, the HD trencher drive technology ensures consistent, powerful trenching performance in the most demanding digging conditions.
Trenching is not the only tough task where the RT1200 excels. When it comes to plowing, the RT1200's P105 Vibratory Plow features plow-blade attitude adjustment, as well as plow steer and swing of up to 30 degrees to maintain plowing accuracy and provide enhanced maneuverability.
"Not only is the RT1200 a powerful performer, it is an operator-focused machine," explains Josh Beddow, marketing manager for Toro's underground utility equipment line. "With its open-design operator platform, easily accessible controls mounted to the arm rests, multi-adjustable high-back suspension seat, and large digital display, the RT1200 provides the operator with great visibility and comfort to ensure maximum productivity."
Additionally, its Cummins 4.5 liter, 121 hp engine and 48 gallon (182 L) fuel tank provide high output with minimal downtime. A standard tilt frame allows the operator to tilt the machine at variable degrees in order to maintain trench angle, while optional load control allows the operator to set the percentage of engine output dedicated to the ground drive to ensure the performance of the digging implement is maintained.