Hydraulic System Protection
HYDREX XV lasts up to three times longer and provides up to two times better wear protection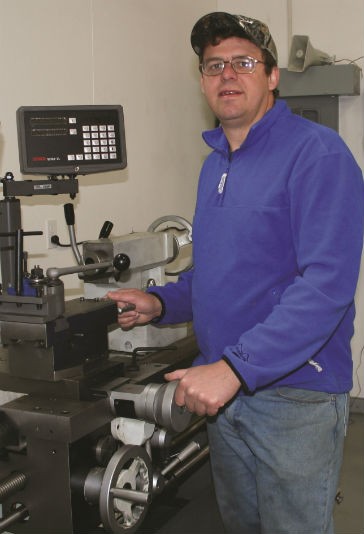 Hydraulic systems found in construction equipment are specifically designed to operate in dirty, dusty conditions. The pumps are put to the test daily, as they operate under extreme, heavy loads, enduring some of the most rugged and demanding conditions.
Operators need their hydraulic systems to be responsive and ready to go when called upon, no matter what the circumstance.
Double R Repairs Ltd., a heavy-duty truck maintenance and reliability shop based in Fort St. John, British Columbia, specializes in hydraulic servicing and repairs. Their customers include a wide range of construction, oilfield and transportation companies, some of which operate in various locations around the world. For these customers, reliability is critical.
Kris Calverley, owner and operator of Double R Repairs, tried many types of hydraulic fluids throughout his career, and in many cases he was unable to find any that met all expectations.
Calverley and his team at Double R Repairs treat their customers and their equipment like it's their own. That's why they use fluids like HYDREX XV All Season hydraulic fluid to help protect equipment and ensure that the hydraulic systems they service will perform, even in the toughest of conditions.
"We service and sell all types of foldup cranes, pickers and hydraulic systems," says Calverley. "This equipment operates year round in harsh conditions including temperatures as low as -40˚C/-40˚F in the winter, and as hot as 35˚C/95˚F in the summer."
"Any kind of mechanical failure could be detrimental, so it's our job to make sure these machines are properly serviced and maintained," says Calverley.
Calverley has been using HYDREX XV since 1997, even before he joined Double R Repairs, because it helps increase productivity, drives energy efficiencies, minimizes sludge build up, and provides extra protection.
"Throughout my career I've used several different hydraulic fluids, and in my opinion, HYDREX is the best," says Calverley.
HYDREX XV keeps systems running smoothly year round, over wide temperature ranges and in extreme conditions.
"It's nice to know that your hydraulic fluid can provide extra protection, even under severe wear periods," says Calverley.
Calverley remembers one situation in particular, when a pump's shut-off valve failed. It ran at elevated temperatures beyond some of the most extreme conditions.
"With a pump running out of control for two straight hours, oil reaching high temperatures, rubber mounts melting and the filter disintegrating, I was amazed to see that the pump never seized," recalls Calverley.
As Double R Repairs continues to expand its business, they will carry hydraulic pumps and a specialized selection of parts to help companies keep their cranes and hydraulic systems working in the field.
"No other hydraulic fluid could have stood up and protected the equipment like HYDREX XV did," Calverley said. "We will continue to put quality in everything we do and that includes the Petro-Canada oils that we use."
Petro-Canada says that compared to other leading global hydraulic brands, HYDREX lasts up to three times longer and provides up to two times better wear protection.
HYDREX XV is specially-formulated for all season use in heavy-duty hydraulic systems, providing advanced performance in very hot or cold temperatures, and increasing productivity in even the most demanding conditions. It allows systems to start up at temperatures as low as -40°C (-40°F) and operate between -18°C and 75°C (0°F and 167°F). It is suited for mobile equipment used in construction, mining and public utility work.