Employee, Subcontract Kiosks Expand Spectrum Access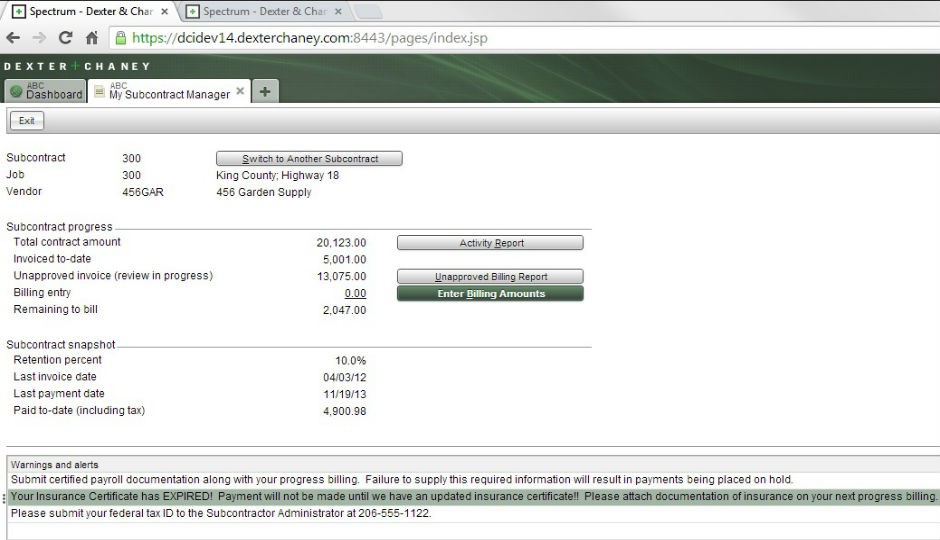 Dexter + Chaney, provider of Spectrum Construction Software, continues to expand the functionality of its web-based software by releasing two new kiosk solutions. The Employee Kiosk and Subcontract Kiosk allow all authorized employees and subcontractors of companies that use Spectrum an easy, secure way to access and update payroll and subcontract data in the system—without the need for additional user licenses.
"These kiosks add yet another layer of easy-to-use, yet powerful functionality to the Spectrum Dashboard and provide relevant information to everyone in the company," said John Chaney, CEO and co-founder of Dexter + Chaney. "It was important to us and to our clients to find new, simple ways to streamline the everyday processes that can often be cumbersome or time-consuming."
The Employee Kiosk provides a secure portal for employees to enter their own hours and payroll information, and to access other human resources information. When users log into their Spectrum Dashboards, they will see the Employee Kiosk app, where they can enter, modify or delete time records with just a few clicks. They can also retrieve summaries of previous time card entries and print out their earnings statements.
The Subcontract Kiosk allows authorized subcontractors the ability to enter their own progress billings and submit them electronically into Spectrum's Invoice Approval. Subcontract vendors are provided with logon credentials for the Spectrum Dashboard where they will see their Subcontract Kiosk. Access to each dashboard and kiosk is strictly limited to the current user's vendor information. Inside their kiosk, subcontractors will find different applications that will let them process billings, attach supporting documents using Document Imaging's simple drag-and-drop feature, print activity and billing reports, and view information on all open subcontracts.
"This significantly speeds up the billing, approval and payment process, and provides another important level of checks and balances on projects," said Geoff Falk, Spectrum product manager. "For subcontractors, they have a way to submit their invoices and know they are instantly in the approval queue. This means they get paid faster. For contractors, it provides full visibility into projects, where billings stand, and what invoices need to be paid. Project managers can also run reports and inquiries to make sure their projects are on track."
With both kiosks, setting up new users is a nearly effortless task thanks to pre-built templates. Additionally, Spectrum's web-based platform makes the kiosks ideal vehicles for remote time and data entry in the field.
"The users can be anywhere with Internet access and be able to conduct the business they need to without having to wait until they're back in the office or relying on a third-party system to connect remotely," Chaney said. "Our clients are excited knowing that whether in or out of the office, workflows will be significantly improved."