Fecon's LOG JAW Wood Splitter Gets New Excavator Capabilities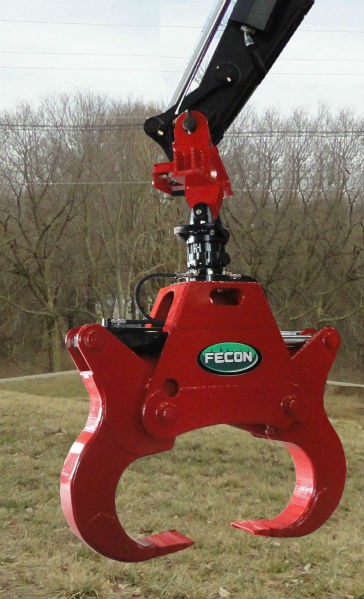 Fecon, Inc. has introduced the excavator mounted Log Jaw Wood Splitter to their forestry attachment product line. The Log Jaw is a hydraulic-powered wood splitting attachment that is also made for skid steers and loaders.
The Log Jaw will rip apart long, large diameter logs and stumps into manageable pieces for chippers, wood grinders, or for firewood processing. The Log Jaw is Fecon's low cost, high return solution for handling oversized and difficult to process logs and stumps that would otherwise require expensive disposal fees.
Splitting logs into optimally-sized pieces improves the efficiency and production of chippers and grinders, while putting less stress on and requiring less horsepower from the processing equipment. Introducing the Log Jaw is another innovative way Fecon is catering to their customers in the composting, recycling, wood/firewood processing, and land clearing markets.
The Log Jaw attachment-- weighing approximately 995lbs mounted on an excavator has a 40" jaw opening (tip to tip) and 360° of rotation, allowing the operator to attack oversized wood from any angle. Made for 8 to 16 ton excavators, a mount can be built to your excavator's specifications for easy installation.
Company info
Related products