GSSI Launches Innovative New Ground Penetrating Radar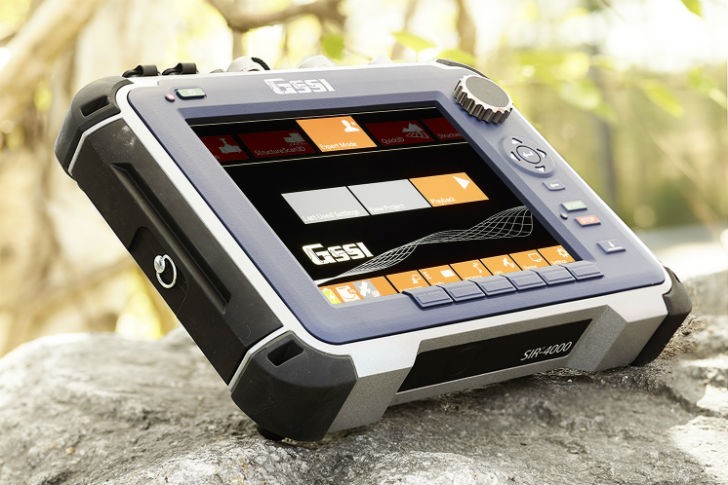 GSSI has announced the release of SIR 4000 ground penetrating radar (GPR) control unit at the 15th International Conference on Ground Penetrating Radar- GPR 2014, the premier conference for the GPR industry. The new controller is designed to bridge the legacy of our traditional analog antennas with our next-generation of digital offerings. Combined, this allows true versatility and flexibility by supporting a wide range of users, beginner to advanced, in numerous applications.
The SIR 4000 offers unique collection modules, including Quick 3D, UtilityScan, StructureScan, and Expert Mode for efficient data collection and visualization. It also incorporates advanced display methods and filtering capabilities for 'in-the-field' processing and imaging. Fully integrated, the SIR 4000 provides a 10.4 inch high definition LED display, a simple user interface, plug-and-play GPS integration, and Wi-Fi enabled data transfer functionality.
The SIR 4000 is designed with a number of exclusive features, including a casted aluminum chassis that offers superior temperature stability and an impact resistant design that combined, delivers a full IP 65 rated- able to withstand tough jobsite conditions. Paul Fowler, Vice President of Sales and Marketing, commented, "GSSI has been the innovator in ground penetrating radar technology since the early 1970's, when the company introduced the world's first commercial GPR system for geophysical investigation. In that regard, the SIR 4000 combines years of engineering and in-field experience. We designed it to support every existing GSSI antenna with an eye towards future digital offerings, and to provide a high-performance instrument able to withstand the rigors of field use. The release of the SIR 4000 at GPR 2014 further proves our commitment to the GPR industry and why we remain the world leader." For pricing and availability, please contact your local sales representative.