Komatsu's New WA200-7 Wheel Loader with T4i Engine
One Machine for All Applications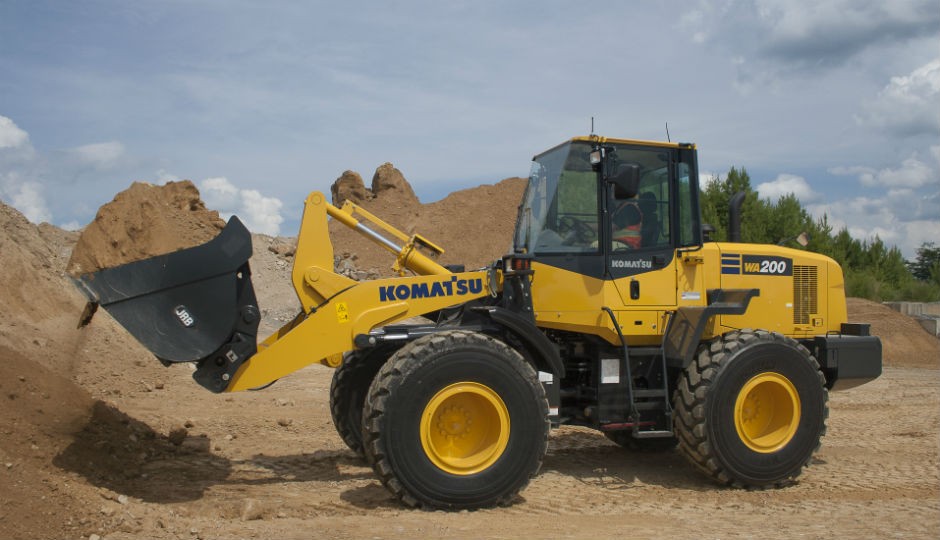 Komatsu America Corp. has introduced the WA200-7 wheel loader. With a net horsepower of 126 hp (94 kW), the WA200-7 is powered by an EPA Tier 4 Interim emission certified Komatsu engine. Built on its proven Tier 3 engine platform, Komatsu leveraged its leadership in technology and innovation to design a more environmentally friendly engine. Fuel consumption has been reduced by up to three percent compared to the WA200-6.
The new wheel loader replaces both the WA200-6 and the WA200PZ-6. Weighing between 25,342 lbs. and 26,070 lbs. (11495 – 11825 kg), the new model features improved efficiency, lower fuel consumption, excellent operator comfort and serviceability to help maximize productivity while lowering operating costs*.
One Machine for All Applications
The WA200-7 utilizes Komatsu's versatile Parallel Z-bar (PZ) loader linkage. This linkage combines the advantages of a parallel lift linkage for pallet handling and high tilt forces for large attachments. The PZ linkage also offers large breakout and lift force, which make bucket-filling quick and easy and also aids in digging performance.
EPA Tier 4 Interim Emission Certified Engine
Built on Komatsu's proven Tier 3 technology, the SAA4D107E-2 engine produces lower emissions and lower fuel consumption. The Komatsu Tier 4 Interim engine uses an advanced electronic control system to better manage air-flow rate, fuel injection, combustion and exhaust after-treatment to optimize performance, reduce emissions, and reduce fuel consumption.
In the WA200-7 Komatsu has also employed the use of its electronically actuated Komatsu Variable Flow Turbocharger (KVFT) and Exhaust Gas Recirculation (EGR) valve. This results in precise air management as well as long component life. The simplicity of this configuration on the 4-cylinder engine provides a robust and reliable system without additional hydraulic lines.
The Komatsu Diesel Oxidation Catalyst (KDOC) is part of an integrated exhaust management system that does not interfere with daily operation. The KDOC is a 100% passive regeneration system that is good for the life of the engine and does not have a scheduled replacement interval.
The WA200-7 also features Komatsu SmartLoader Logic, which provides the optimal engine torque for the job required. Komatsu SmartLoader Logic helps save fuel by automatically decreasing engine torque when the loader is not working as hard, such as when driving with an empty bucket. SmartLoader Logic functions automatically, doesn't interfere with operation, and saves fuel without decreasing production.
Responsive Hydrostatic Powertrain System
Now in itssecond generation, the Komatsu hydrostatic (HST) drivetrain features large pump capacity for high efficiency and responsiveness. The dynamic-braking effect of the HST slows the machine when the accelerator pedal is released and this dynamic-braking effect, combined with wet disc brakes, minimizes brake wear. The result is enhanced control, especially in tight spaces.
The electronically controlled HST drivetrain features Komatsu Traction Control System (K-TCS) which helps facilitate operation in soft or slippery ground. Simple traction controls feature MAX, Traction Control, and S-Mode. Variable Speed Control (VSC) engages infirst gear range and allows the operator to set a maximum speed between 3.2 and 8.9 mph. This is particularly useful for applications such as mowing or broom use.
Operator Environment
The cab of the WA200-7 provides a more comfortable and quieter work environment. The low and sloped front glass affords visibility to the front wheels. Newly redesigned operator controls make working mode selection and other machine parameters quick and easy. A new redesigned right hand console has a multi-function mono-lever with proportional control forthird spool. An auxiliary input has also been added to connect an MP3 player or other device along with two 12-volt ports for powering portable devices.
Customer peace-of-mind is standard with Komatsu CARE
Komatsu remains focused on lowering the customer's ownership costs by engineering machines with increased fuel efficiency and productivity. To further reduce owning and operating costs, Komatsu CARE complimentary scheduled maintenance is standard on all WA200-7 wheel loaders for three (3) years or 2,000 hours (whichever occurs first). Services are performed by factory-certified technicians using only Komatsu genuine parts and fluids.
Convenient Maintenance and Serviceability
To reduce downtime, the WA200-7 provides more convenient service access. The new wheel loader has increased cooling capacity, wider cooler fin spacing and a standard auto-reversing fan to help keep the radiator clean. The machine is equipped with the exclusive Komatsu EMMS (Equipment Management Monitoring System), which provides enhanced diagnostic features. The monitoring system gives both operators and technicians greater monitoring and troubleshooting capabilities. EMMS continuously monitors many critical systems, as well as the planned maintenance schedule, to minimize diagnosis and repair time.
The WA200-7 is also equipped with KOMTRAX technology, which is fully integrated with Komatsu's Tier 4 Interim technology. KOMTRAX sends machine operating information to a secure website or smart phone application utilizing wireless technology. Data such as operating hours, fuel consumption, location, cautions and maintenance alerts are relayed to the web application for analysis. The KOMTRAX fleet monitoring system increases machine availability, reduces the risk of machine theft, allows for remote diagnosis by the distributor, and provides a wealth of other information to help drive business.
Company info
Related products