Triton Transport Expands to New, State-of-the-art Facility in Chilliwack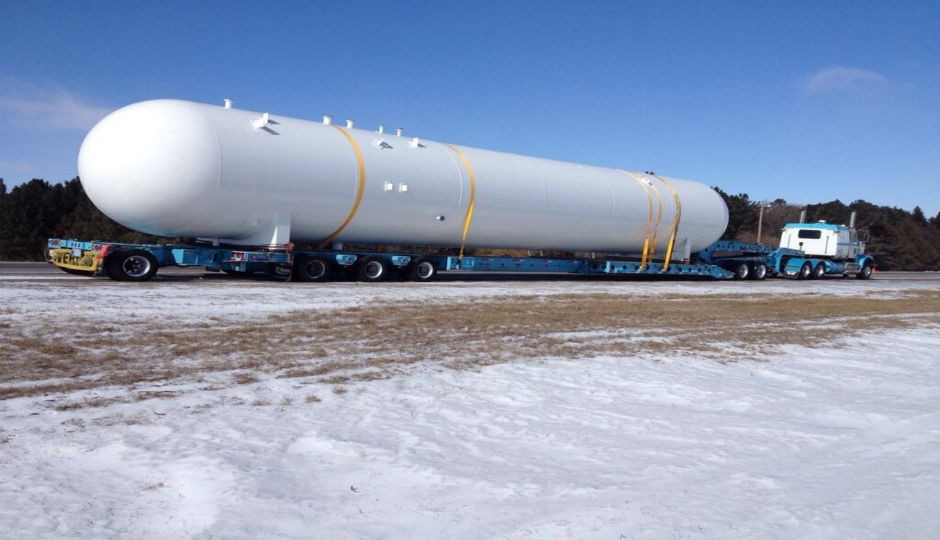 Triton Transport Ltd., which provides its purpose-built equipment for heavy-haul services across North America, has relocated its Head Office from Langley to Chilliwack, BC, effective July 21, 2014, and is open for business for clients needing transportation services or equipment maintenance in Triton's fully equipped, state-of-the-art shop.
The new location's 7.5 acre yard and leading-edge facility incorporate three pull-through shop bays and an outside bay with two overhead cranes, significant features for a sector with equipment – and loads – that are much longer and larger than those the general public usually sees on BC's roads (in fact, the general public rarely sees loads of the size Triton moves, since, for safety, they may travel in the early morning or late at night). Generous yard space also allows Triton to store clients' equipment in a secure, locked compound until it is ready for shipment to its final destination. There's also room for the company to maneuver in future, for its own growth and continued expansion to accommodate clients across the continent.
"We are very excited to have finally moved into our facility in Chilliwack after two years of planning and construction. Triton now has the capacity to service and grow our existing and future client base as well as attract the very best people in our industry," says Murray Scadeng, Triton President. "The City of Chilliwack has been very accommodating, and we look forward to being an active part of our new community."
As an innovative and comfortable working environment for office staff and a top-of-the-line facility for drivers and mechanics, the new location will be a magnet for skilled workers looking for a career in this industry sector. For clients, the Chilliwack terminal is conveniently close to the Trans Canada highway and well suited for servicing all of the major docks in western Canada and the US Pacific Northwest.
Along with the company's existing team of heavy-haul professionals and the reliable, quality service it has provided for the past 20 years, Triton is proud to introduce this new facility and a team of experts who are ready to service and maintain Triton's fleet of trucks and trailers and offer their specialized services to other fleets from its Chilliwack location.