Lynn Patterson Joins Terex Construction As Terex Bid-Well Western Canadian Regional Sales Manager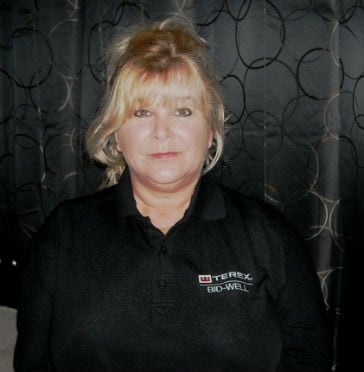 Terex Construction has announced Lynn Patterson as the new Terex Bid-Well equipment Regional Sales Manager for the Western Canadian territory. Patterson brings more than 15 years of in-depth construction and distributor sales experience to a territory that spans westward from and includes the province of Manitoba. In her new role, Patterson will have sales, training and customer paving application consultation responsibilities for the broad Terex Bid-Well line of bridge, highway, airport, and canal pavers, texture/curing machines, work bridges and concrete placers.
"In her 15-plus years serving the construction industry, Lynn has gained valuable experience working with end users to supply the right equipment they need to be successful on their projects," says Terex Bid-Well Site Director, Sam Goodwin. "She will be a valuable resource for heavy and highway contractors, as it gives them an extra level of support within this territory for our bridge, highway, airport and canal paving equipment."
Prior to joining the Terex Bid-Well equipment sales team, Patterson spent time in sales positions with companies serving the construction and agriculture markets. She has experience as a principle with an industry heavy equipment distributor, supplying equipment such as excavators, cranes, backhoes, pavers and tractors to contractors. Throughout her career, Patterson has worked very closely with equipment end-users, selling, supporting and serving their needs.
"Throughout my career, I've partnered with customers to help them select the equipment they need for their work, and I have an in-depth knowledge of not only what contractors need but also why they are selecting a particular piece of equipment for the job," says Patterson. "I look forward to helping contractors in the Western U.S. select the right Terex Bid-Well paver, not only for their current project but also for future work. Our pavers are incredibly simple to configure, operate and maintain, but there is an incredible sophistication within this simplicity, as they are flexible to adapt to a broad range of applications."
In addition to her role as Western Canadian Regional Sales Manager for Terex Bid-Well equipment, Patterson will also serve a field sales supporting role for Terex ready mix concrete trucks. The Terex mixer truck line includes front discharge, rear discharge and glider trucks, offering configurations from three to seven axles.
Patterson is stationed in a field office in Phoenix, Ariz. She can be reached at 602-509-0562 or [email protected]
For more information on TerexBid-Well automatic roller pavers, visit www.terex.com/construction.