BOMAG's BW190AD-4 AM Tandem Vibratory Roller Features New Asphalt Manager II Technology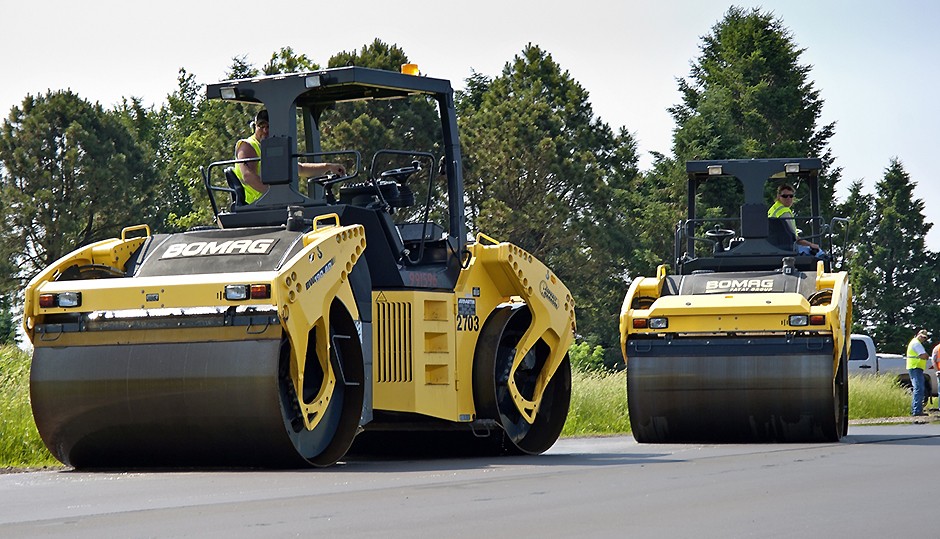 Thanks to BOMAG's exclusive Asphalt Manager II technology, the BW190AD-4 AM tandem vibratory roller delivers continuously optimized compaction performance, regardless of operator experience.
A special front drum designed to work with the new Asphalt Manager II system automatically measures and controls compaction performance. As the material becomes stiffer, Asphalt Manager II begins to adjust the angle/vector of the drum's output energy from fully vertical to fully horizontal. This helps ensure that optimum surface quality results are achieved, while avoiding asphalt-damaging over-compaction.
Vital information, including the current effective amplitude, asphalt surface temperature and vibration stiffness values for compaction increases, is available to the operator in real time via a simple menu guide. Asphalt Manager II also allows the operator to determine the exact number of passes needed to meet density and quality requirements. The system's manual mode delivers precise vector direction for application versatility, while automatic mode allows amplitude limitation for thin asphalt layers.
The BW190AD-4 AM offers 79-inch-wide drums and features slanted drum support legs, high curb clearance and a clear view of the entire drum surface. Additionally, the open design of the front and rear frames not only allows for an unrestricted view of both drums, but the sprinkler system as well, enabling operators to quickly spot potential asphalt pickup.
A fuel-efficient, 134-horsepower Deutz water-cooled diesel engine powers the BW190AD-4 AM. The front drum delivers 35,550 pounds of centrifugal force in high frequency (3,000 vpm) and 55,575 pounds of centrifugal force in low frequency (2,400 vpm). The maximum centrifugal force provided by the front drum is 35-percent higher than units without Asphalt Manager II, allowing the roller to complete compaction in fewer passes.
The rear drum of the BW190AD-4 AM produces 24,525 pounds of centrifugal force in low amplitude/high frequency (3,420 vpm) and 37,575 pounds of centrifugal force in high amplitude/low frequency (2,760 vpm). Independent drum vibration control allows the roller to handle a variety of lift thicknesses and applications ranging from granular bases to Superpave.
Wide opening, swing-out engine doors simplify service and offer a major advantage over some competitive designs that require the entire operator's platform to be raised for engine maintenance. Furthermore, all maintenance and service points are easily accessible from ground level, facilitating daily visual inspection. When encountering material pickup on the drum, hinged, spring-loaded scraper bars are easily lifted or removed for proper cleaning.
The BW190AD-4 AM has been intentionally designed to have a very low center of gravity. This reduces the chances of equipment rollover, maximizing jobsite safety. The roller also features an emergency stop button and a Spring-Applied, Hydraulically Released (SAHR) braking system that automatically activates when the engine is stopped or when the travel lever is returned to neutral. ROPS/FOPS, seat belt and back-up alarm are all standard.
Other standard features include crab steering and a pressurized water spray system. Crab steering allows the operator to offset the roller's rear drum up to 6.7 inches in either direction. When engaged, this feature increases rolling width, delivers superior performance when compacting joints and helps prevent the rear drum from contacting curbs or other obstructions when rolling into and out of turns. The pressurized water spray system features a high-capacity, 264-gallon plastic tank and secondary backup spray pumps, ensuring maximum machine uptime. Additionally, a six-position interval spray timer system reduces water consumption and extends time between refills.