No job too small for Volvo 25 to 39 ton H-Series wheel loaders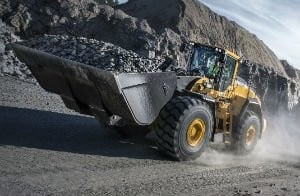 The new Volvo L150H, L180H and L220H wheel loaders, occupying the 25 to 39 ton weight class, excel in a wide range of jobs, making them a versatile and profitable investment.
The L150H, L180H and L220H wheel loaders from Volvo Construction Equipment are suitable for a wide range of applications from rehandling, slag handling, timber handling and block handling to recycling, tunneling and extraction. These versatile wheel loaders are fitted with a choice of specialized Volvo attachments including forks and grapples, as well as rock and general purpose buckets to achieve optimum uptime and profitability from each machine. The attachments are planned as an integral part of the wheel loader with functions and properties ideally matched to minimize energy losses and increase productivity. For example, the optimized shape of the Volvo rehandling bucket featuring a spill guard, side cutters and fewer edges to trap material, facilitates faster and more effective bucket fill. This leads to a 10 percent improvement in fuel efficiency.
The productivity of the buckets, in particular, is further enhanced by the optional Boom Suspension System (BSS), which absorbs shock and reduces spillage when travelling over rough ground, as well as increasing machine life and operator comfort. Even without the BSS, however, the operator still enjoys a pleasant ride due to a comfortable seat and vibration protection inside the spacious ROPS / FOPS certified cab.
Efficient and environmental
Not only are the Volvo H-Series wheel loaders exceptionally productive, they are also remarkably fuel efficient. Featuring Tier 4 Final engine technology, the wheel loaders meet strict emissions legislation while delivering high performance and low fuel consumption. The fuel efficiency of the machine's D13J engine is further enhanced by the perfectly-matched Volvo powertrain and intelligent hydraulics which supply power only on demand. The load-sensing hydraulics ensure fast response for outstanding control over the load, as well as shorter cycle times.
To further reduce fuel consumption and cycle times, the Automatic Power Shift (APS) and Fully Automatic Power Shift (FAPS) functions automatically adjust the machine gears in line with engine speed and travel speed. Another intelligent feature, the Reverse By Braking (RBB) function, automatically applies the service brakes when the operator changes the direction of the machine. This not only conserves fuel, but also reduces stress on the drivetrain, thereby extending component life. The Volvo OptiShift technology combines the RBB function with a lock-up torque converter to create a direct drive between the engine and the transmission, eliminating power losses in the torque convertor and reducing fuel consumption by up to 18 percent. The eco pedal further reduces fuel consumption by mechanical push-back force, which encourages the operator to ease off the throttle when the engine rpm is about to exceed the optimum operating range.
Company info
Related products