Moley Claw Magnet 2-in-1 solution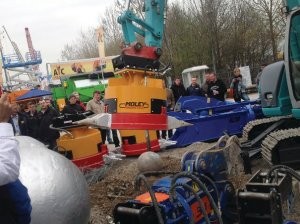 Moley Magnetics, Inc. has introduced the Moley Claw Magnet, a fully enclosed hydraulic scrap magnet that is robust and heavy-duty, and ideally suited for the demolition, scrap and recycling industries.
The Moley Claw Magnet features easy installation, comes in various sizes (32 inches through 60 inches) and it is simple to hook up and operate. In combination with its powerful and efficient magnet, the Moley Claw Magnet features extended scraping claws that will loosen up dirt, gravel and other debris, allowing increased access to metal pieces.
The Moley Claw Magnet is a proven technology, is quick coupler-ready, and has the ability to recover iron fast. Moley Magnetics offers a complete inventory of electromagnets and accessories such as magnets, shears, grapples and track pads.