Montabert 501 NG hydraulic breaker provides operators with greater power-to-weight ratio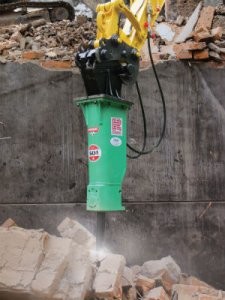 Despite undergoing a 30 percent reduction in overall weight, the 1,610-pound 501 NG hydraulic breaker is 75 percent more powerful than its predecessor — providing aggregates producers, as well as construction and demolition contractors, with a superior power-to-weight ratio.
Designed for use with backhoe loaders and excavators weighing between 17,637 and 39,683 pounds, the all-purpose hydraulic breaker delivers up to 870 blows per minute — demolishing oversized boulders and thick concrete with ease. The 501 NG falls within the 2,000 foot-pound impact energy class and requires a hydraulic flow rate of between 21 and 37 gallons per minute.
Standard performance-improving features include an energy recovery system that captures and recycles recoil energy from the piston to increase strike power and a blank-fire protection system that reduces harmful metal-to-metal contact. In addition, the 501 NG hydraulic breaker's upper and lower suspension system extends the carrier's work-group life by absorbing harmful vibrations and stress waves. Optional features include an air pressurization kit for underwater applications, as well as an automatic, cradle-mounted grease station that delivers continuous oil flow, reducing bushing and tool wear.
In comparison to hydraulic breakers of similar size, the 501 NG requires minimal maintenance activity, increasing operator productivity. The breaker's simple design — characterized by fewer wear parts and devoid of tie rods — enables operators to more efficiently complete routine maintenance on-site and with standard tools, including the replacement of the breaker's bushing. The breaker's enclosed heavy-duty housing unit further protects working parts from debris damage, while reducing noise levels on the jobsite.
Working tools available for the 501 NG include a general purpose moil, a blunt tool and a chisel. The Montabert 501 NG hydraulic breaker is covered by a limited one-year warranty.