Wacker Neuson introduces vertical mast light towers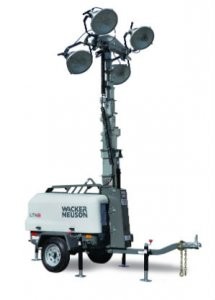 Wacker Neuson is expanding its light tower line with the addition of two models designed for faster set-up time and easier operation. The LTN 6KV and LTN 8KV are trailer-mounted vertical mast light towers. The vertical mast is made of nine robust sections that can be easily raised and lowered in about 20 seconds by the push of a button. The hydraulically activated telescoping mast collapses while remaining in the vertical position, eliminating the tower overhang off the back of the trailer. This design decreases the total length of the unit, maximizing the number of machines that can fit on a standard shipping truck and in a rental storage space.
The new LTN 6KV and LTN 8KV are narrow body light towers that are ideally suited whenever nighttime needs to be converted to daylight. The mast extends 28 feet and retracts to just seven feet, lowering the center of gravity, allowing for more balanced towing, and making the light fixtures more easily accessible to rotate. The mast is designed with pulleys on alternating sides, creating a very straight and sturdy tower during operation. The light bar rotates 360-degrees and holds four elliptical light fixtures with 1000 Watt metal halide lamps that can be easily directed to offer excellent job site illumination. The new light bar design also gives the user additional range of motion on all four light fixtures, allowing usage in reduced glare applications such as highway construction.
Wacker Neuson light towers offer quietest in its class operation with sound levels as low as 67 dB(A) at 23 feet, which provides for maximum versatility for almost any application. A large, 32.5 gallon fuel tank allows for continuous lighting/run time over several nights of operation without refueling. Four-point jack stands provide for easy leveling, stability on uneven terrain and superior wind stability. Lockable full length, high impact polyethylene side doors are dent and rust proof and provide maximum accessibility for easy servicing and durability for any jobsite application.
The LTN 6KV and LTN 8KV utilize many of the same proven components that the current standard light towers use, including the same uni-body stamped frame, lights, ballasts, engines, and generators. The LTN 6KV is powered by a 13.1 Kubota diesel engine and offers a 6 kW generator. The LTN 8KV is powered by a 15.4 hp Kubota engine and offers an 8 kW generator. Like the standard light towers, the vertical mast light towers also give customers the flexibility to customize their light tower by choosing from an extensive list of factory installed options, including a cold weather package.
Company info
Related products