Wacker Neuson's new rammer line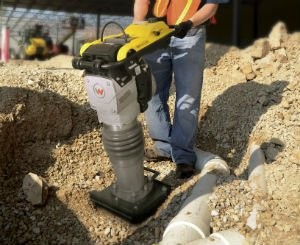 Wacker Neuson rammers have been shaking up the industry for over 80 years. During this time, Wacker Neuson engineers have continued to make improvements that keep Wacker Neuson's signature product the best-selling rammers in the world. In 2014, new upgrades to the line will further improve durability, operator comfort and extend the life of the machines.
Wacker Neuson's most popular series is its 2-cycle, oil-injected models. The newest BS-2i models will sport a new oil tank that increases the amount of run time up to 100 hours per tank of oil. This no mix system with extremely lean fuel to oil ratio and the low oil shutdown means fewer refills and more uptime. The oil tank has a new design with a lower profile cap that is further protected from damage. Wacker Neuson's oil-injected series and standard 2-cycle models are powered by Wacker Neuson's own WM 80 engine that was specifically designed to withstand rugged rammer applications. This engine continues to meet Environmental Protection Agency (EPA) and European Community (EU) emission regulations.
Wacker Neuson also offers 4-cycle rammers and diesel rammers for the most complete line in offered in the industry. Additional improvements to all 2-cycle and 4-cycle rammers include an air filter that is designed for long life and less downtime. The unique four-stage air filtration system includes a main element with 20% more capacity than the previous design and still uses the rammer's motion to self-clean, an improved cyclonic pre-filter designed for more efficient dirt removal and a fourth stage "last chance" filter that prevents dust ingestion during filter changes. Dust is an inherent enemy of engines, so this new filtration system will provide for a virtually dust free engine for longer life and improved durability.
These upgraded rammers also include a longer lifting cable for better access when attaching lifting straps and a new throttle control design that enhances ergonomics and durability. The throttle is now shaped so it is easier to operate when the rammer is moving and it is coated with a softer gray material for increased grip. Both the fuel valve and ignition switch (made of a durable stainless steel) are still integrated in the throttle but they are now tucked into a lower profile position to limit their exposure to damage.
Wacker Neuson offers the most complete line of rammers and are the proven choice for performance, durability and the environment. With 80 years of innovation, Wacker Neuson's rugged rammers continue to offer the best compaction results for cohesive, mixed and granular soils in confined areas. Wacker Neuson rammers include, the 2-cycle, BS 50-2; the oil-injected 2-cycle, BS 50-2i, BS 60-2i and BS 70-2i; the 4-cycle, BS 50-4s and BS 60-4s; and the diesel DS 70.
Company info
Related products