Gehl V270 GEN:2 and V330 GEN:2 Vertical-Lift Skid Loaders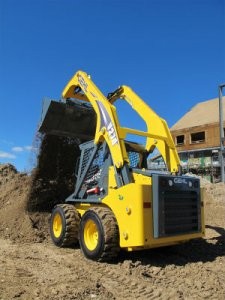 The all-new V270 GEN:2 and V330 GEN:2 vertical-lift skid loaders offer Tier IV-certified Yanmar 72 hp (53.7 kW) diesel engines, meeting emissions regulations. Answering the demands of equipment users, the new generation of vertical-lift skid loaders offers the "Tbar" control option – the Gehl brand proprietary control pattern.
The V270 GEN:2 and V330 GEN:2 vertical-lift skid loaders fall into the large-frame category. The rated operating capacity on the V270 GEN:2 is 2,700 pounds (1225 kg) and on the V330 GEN:2 is 3,300 pounds (1497 kg). For those operators and contractors who need large capacity and high loading heights, the V270 GEN:2 offers a little over 10'10" (3310 mm) of lift height and the V330 GEN:2 offers over 10'11" (3332 mm) of lift height.
These vertical-lift skid loaders come equipped with Tier IV-certified Yanmar engines that incorporate DPF (diesel particulate filter) technology. This engine technology is environmentally sound and does not require fuel after-treatments, such as urea. With a maximum torque rating of 217 ft.-lbs. (294 Nm), these machines efficiently transfer engine horsepower into effective performance.
The newest generation of vertical-lift skid loaders now offers the complete control option portfolio. The much-anticipated "T-bar" control option is now available, in addition to the joystick and hand/foot control options. A fully-customizable digital in-cab display provides coolant, fuel, battery, environmental, engine regeneration and other system information in real time for an overview of complete system performance. An updated self-leveling option now provides an on/off switch in the cab.
A large operator's compartment with a cab-forward design provides ample room for the operator and excellent visibility to the front, the cutting edge, and the sides of the loader. Lowered rear towers and a moveable rear support brace provide excellent visibility to the rear. A side-folding restraint bar and armrests with multiple adjustments enhance operator comfort and safety. The joystick and hand/foot control towers are fully adjustable for further customization of the cab. Mechanical or air-ride suspension seat options deliver outstanding comfort.
The optional pressurized sealed cab enclosure – with sound reduction material and a rearmounted air filter - provides a cleaner, quieter, and climate-controlled working environment. The V270 GEN:2 and V330 GEN:2 skid loaders come equipped with high-powered auxiliary hydraulics. Standard hydraulic flow is rated at 23.5 gpm (86L/min) and high flow at 35 gpm (132 L/min) for excellent attachment performance. A new factory-installed 14-pin connector option allows easy attachment performance and operation.
Excellent service access is achieved through the extra-wide rear door and engine hood. Service access is made even easier with the addition of gas spring assist on the tiltable Level II ROPS structure. The tiltable ROPS structure exposes hydraulic components for quick service and maintenance.
The newest generation of vertical-lift skid loaders from Gehl includes many other features such as the manual Quick-a-Tach™ or hydraulic Power-a-Tach™ attachment systems. HydraGlide™ ride control cushions the operator for a smoother ride. The Hydraloc™ safety system ensures the operator is safely seated with the restraint bar down before the machine will operate.
All this is built into a full sized, vertical-lift skid loader frame that allows these units to provide large rated operating capacities, high lift heights and impressive hydraulic performance.
Company info
Related products
Related Articles
Searching for the best-performing excavator? Your search ends here. We tested the Volvo EC350E and EC380E against a leading competitor in three different tests: trenching, truck loading and lifting capacity at reach. The results show a 20% difference in cost-per-ton, a 15% difference in tons-per-hour and a 12% difference in both operating costs and lifting capacity. See the results and put an end to your search for the best excavator.