Kawasaki Introduces New 80Z7 Wheel Loader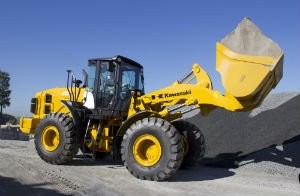 KCMA, has announced the all new 80Z7. This 4.2 cubic yard (3.2 cubic meter) wheel loader is totally redesigned to incorporate the KCM IntelliTech family of features along with numerous other changes that improve overall Efficiency, Productivity, Intelligence and Comfort. The new 80Z7 meets all EPA Tier 4i emission levels by utilizing a DPF/EGR design with the 193 net horsepower Cummins QSB6.7 diesel engine. This proven engine works with a five speed transmission for excellent power and performance. The open‐center, load sensing, excavator style hydraulic system improves fuel consumption and hydraulic performance. Standard Limited Slip Differentials resist wheel spin and avoid tires slippage in most applications.
The IntelliTech family of features on the full line of Kawasaki Z7 models, brings a higher level of control and efficiency to all systems by adding intelligence to the operation. These IntelliTech features assist in loading material more efficiently, speeding travel times, reducing wasted energy in powertrain and hydraulic systems, all to reduce operating costs and increase productivity.
Comfort is optimized on the new 80Z7. Operators will have all the comforts of home in this roomy, wellappointed cab. The structure is ROPS/FOPS certified, and provides outstanding visibility in all directions. This visibility is enhanced with the rearview camera that is standard. Pilot assisted joystick hydraulic control makes life easy. This multi‐function lever has nine operating functions. In addition to the normal hydraulic functions, this lever has FNR directional control, Downshift switch, Quick Power switch, Shift Hold switch and horn! The tilt/telescoping steering column has a convenient "Pop‐up" pedal to make access/egress easier. The standard, comfortable air ride seat is fully adjustable and available in a heated version for colder climates. Ample storage is available either in the thermal storage box, the dual cup holders or the large storage shelf behind the seat. The HVAC system is fully automatic and provides outstanding airflow to keep the operator cool in the summer and warm in the winter.
Service is easy on the 80Z7 with wide access, gull wing engine doors and swing‐out cooler cores. Oil change intervals for the engine have been increased to 500 hours from 250 hours when using CJ4 low ash oil. And the hydraulic oil change has been increased to 4000 hours from 2000 hours when using non‐zinc hydraulic oil. Plus the bucket linkage pins are all equipped with patented HN bushings that are oil impregnated to extend pin lubrication intervals up to as much as 500 hours. Sight gauges for the hydraulic oil, transmission oil and coolant level make system checks easy. Ground level fill for fuel, hydraulic and transmission fluids is very convenient. Diagnostic capability is outstanding through the onboard systems that allow the operator to receive diagnostic codes easily as well as to make adjustments to a wide range of functions and systems. This advanced system not only makes troubleshooting easier but it allows the machine to adapt to a wide range of operating conditions and operator preferences.
The Kawasaki 80Z7 is a versatile machine that is popular in a wide range of applications. The full range of construction, refuse, logging, scrap, agriculture and plant operations. The quickness and agility of this machine make it very productive. The power and comfort make it an operator's choice.
Company info
Related products