Montabert SC-Series hydraulic breakers fit for use with compact carriers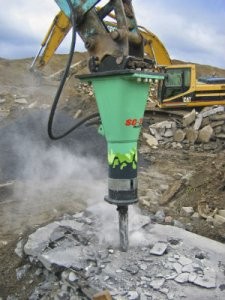 Designed for use with skid-steer loaders, backhoe loaders and excavators weighing between 2,200 and 30,850 pounds, Montabert SC-Series hydraulic breakers enable operators to achieve consistent machine-to-breaker performance by matching the hydraulic capabilities of a carrier to a specific breaker model — ideal for lighter demolition applications.
Montabert offers eight SC-Series hydraulic breaker models ranging in size from 198 to 1,098 pounds. Rated in the 225 foot-pound impact energy class, the smallest of the eight models (SC-8) delivers up to 1,600 blows per minute at a hydraulic flow rate of between 4 and 8 gallons per minute. In comparison, the largest model (SC-50) falls within the 1,500 foot-pound impact energy class, delivering up to 1,137 blows per minute at a hydraulic flow rate of between 20 and 33 gallons per minute.
The light-range hydraulic breakers have few wear parts and lack tie rods, enabling operators to quickly and easily complete routine maintenance. For example, operators are able to replace the bushings, pins and tools on most SC-Series models on the jobsite — without disassembling or removing the hydraulic breakers from their carriers.
In addition, a multi-tool — provided by Montabert — functions as a go/no-go gauge, further simplifying the monitoring and servicing of key wear parts, while an internally mounted retaining pin clip enables operators to easily change the tools and single piece bushings in the field. The hydraulic breakers' fully enclosed cradles minimize harmful vibrations transferred back to the carriers, reduce ambient noise on jobsites and protect working parts from dust and debris.
Specific to the Montabert SC-50 hydraulic breaker, two strong retaining pins and locks maintain the tool and bushing in place. An optional cradle-mounted greasing station and an optional air pressurization kit for underwater applications are available for the largest SC-Series model, as well.