Montabert V46SHD hydraulic breaker designed for a variety of demanding applications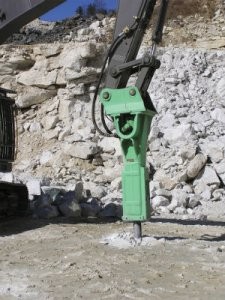 The Montabert V46SHD heavy-range hydraulic breaker features a unique automatic speed variation system, adjusting its impact energy and striking rate to match material hardness in demolition, excavation and quarrying applications.
Designed for use on excavators weighing between 59,500 and 88,200 pounds, the 5,616-pound hydraulic breaker delivers between 510 and 1,160 blows per minute. For optimal breaking power, the V46SHD requires a hydraulic flow rate of between 47-1/2 and 70 gallons per minute and is rated within the 7,500 foot-pound impact energy class.
Standard features include a progressive start system that prevents the breaker from slipping, a blank-fire protection system that reduces harmful metal-to-metal contact and an energy recovery system that recycles recoil energy to increase strike power. The fully hydraulic breaker's enclosed energy chamber provides maximum and constant energy with every blow.
In addition, the V46SHD hydraulic breaker's cradle or excavator-mounted grease station delivers continuous oil flow — reducing bushing and tool wear. The fully enclosed heavy-duty cradle minimizes noise on the jobsite and vibration to the carrier while protecting working breaker parts from dust and debris. An optional air pressurization kit is available for underwater applications.