Doosan Portable Power introduces the industry's quietest and coolest generators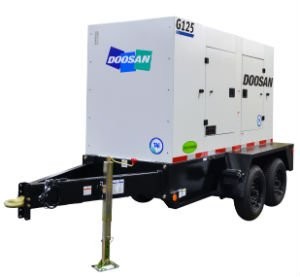 Doosan Portable Power has expanded its mobile generator portfolio, delivering the quietest and coolest generators available on the market, with the introduction of the Tier 4i-compliant G70WCU, G85WCU and G125WCU.
The new Doosan models feature an innovative cooling system with a variable speed cooling fan, keeping the generators cool and maximizing productivity and fuel efficiency in even the most extreme temperatures. The enclosure includes deep air intake pockets that protect the generator from external elements and virtually eliminate water ingression. Innovative airflow management on the models route engine heat without compromising sound attenuation, contributing to the industry's lowest operating sound levels of just 64 to 67 dBA, dependent upon the model.
Redesigned from its predecessor Tier 3 model, the G70WCU delivers a 5 percent output increase at 77 kVA/62 kW, an 86 percent increase in runtime at 38 hours, and a 4 dBA reduction, operating at just 64 dBA. The G85 and G125 mark new power nodes for the Doosan Portable Power lineup, delivering 97 kVA/77 kW and 128 kVA/102 kW respectively, allowing customers to maximize fuel and power efficiency by selecting the power node that best meets their application needs.
The models are powered by a fuel-efficient Tier 4i-compliant Cummins QSB5 engine, contributing to the extended runtimes, which range from 24 to 38 hours at 100 percent load. The engine maximizes machine uptime and enhances operator ease of use with no diesel particulate filter (DPF) — the diesel oxidation catalyst (DOC) aftertreatment is maintenance- free, so operators are no longer required to shut down to regenerate the machine. Further maximizing fuel efficiency on these generators is a thermostatically controlled clutch-driven cooling fan, which ensures the fan runs at the precise speed required to maintain optimum cooling temperature regardless of ambient temperature.
"Customers have plenty to think about on a jobsite, so the challenge is to create the most autonomous machine possible, one that can operate reliably in extreme conditions, and deliver what customers need so they can focus on other things," said Wyatt Franks, assistant product marketing manager, North American generators, Doosan Portable Power. "We designed these Tier 4i models to provide dynamic capabilities in an easy-to-operate package — offering maximized runtime, simplified serviceability, and technology advancements like Quad Voltage, operated by an intuitive control panel."
The generators were designed to deliver versatility while enhancing ease of operation, and are capable of meeting the needs of virtually any application. The models boast an innovative Quad Voltage selection feature — with the flick of a switch, operators can select from 120/240V-1Ø, 208V-3Ø, 480V-3Ø, and 600V-3Ø; a feature that eliminates the need for a dedicated 600V generator. Further expanding the models' versatility is a dual frequency feature, allowing operators to select 50 Hz or 60 Hz dependent upon their application needs, with a simple toggle switch.
Operation has been simplified with a number of control panel enhancements. Large, LED-backlit analog meters provide at-a-glance monitoring of vital engine and generator parameters, while a full diagnostic display alerts operators of fault conditions like low fuel, minimizing operating costs by saving technicians the need for expensive hand-held code readers or laptop-based diagnostic tools. A dual scale ammeter measures and provides read-outs on even the smallest current changes, while the voltage selector switch is equipped with the industry's only VSS protection scheme — guarding against an operator switching voltage during machine use — if the VSS door is opened, the machine shuts down completely.
Operator safety has been enhanced with a redesigned connection panel that provides safe and easy power wiring connections. Each terminal has the capability to simultaneously accept up to 2x500 MCM bare wire cables and multiple terminated cables; an optional camlock panel expands connection capability via multiple 400A color-coded camlocks. An optional Roda Deaco engine overspeed shutoff system provides peace of mind in applications where combustible gas, vapors, or vapor dust are present — preventing engine runaway and helping ensure operator and jobsite safety.
Machine lifetime is enhanced with component design that encourages easy serviceability. Curbside service access to the battery, fuel and air filters, oil fill and fuel fill put routine service points within safe and easy reach. Machine uptime is maximized with 500-hour service intervals.
Doosan Portable Power generators are designed to withstand rugged transportation and jobsite needs. Built on heavy-duty skid bases with integrated 24-hour fuel cells, the generators boast a heavy-gauge, galvannealed steel enclosure and tandem-axle running gear for easy towing.
The generators are equipped with Leroy-Somer alternators with AREP excitation, protecting against overload and short-circuit, offering voltage stability and greater motor-starting capability.
Enhancing performance in even the most extreme temperatures is an optional Tundra Package, which ensures startup and reliable operation in temperatures as low as -40°F/°C. The package includes a coolant heater, oil pan heater, battery charger, battery heater pad and heated breather hose.
Company info
Related products