Geith G3 quick coupler provides fully automatic, double locking attachment system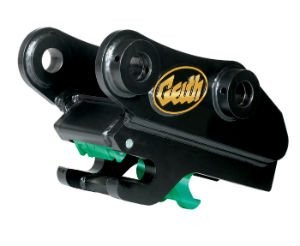 The new Geith Generation 3 (G3) hydraulic quick coupler provides operators with a safe, simple, proven and durable design by which to change attachments on the jobsite, decreasing downtime and increasing overall productivity.
Featuring four independent safety components, the double locking, fully automatic quick coupler configuration complies with the impending safety standards set forth by ISO/FDIS 13031:2013(E). The front safety lock retains the attachment in the event of improper link/rear pin connection, while the front safety lock and the mechanical secondary rear safety system — independently — retain the attachment in a working position should a loss of hydraulic power occur.
Unlike gravity-type systems, both the front and the rear spring-retained safety locks maintain high functionality in severe and dirty environments. The quick coupler's curved engaging plate, or pin seat, holds the attachment's link/rear pin firmly in place upon losing hydraulic power.
In addition, the new G3 quick coupler features a hydraulic cylinder check valve, as well as the Geith-patented "curl to release" control system, providing a safe process for attachment engagement and release.
Manufactured using extra-high-strength steel to increase durability, the G3 quick coupler's simple design consists of only a few replacement parts and lacks greasing requirements. Further, the compact design improves tip radius, reducing the loss of bucket breakout force.
The variable pin center design allows operators the versatility to easily pick up and change between a variety of different carriers' attachments from the comfort and security of their cabs. Operators also have the ability to reverse bucket orientation when working in confined spaces, such as against walls or under pipes.
In an effort to accommodate customer and regional demands for non-hydraulic systems, Geith will offer the new quick coupler configuration in mechanical form, as well. Both the hydraulic and mechanical versions of the Geith G3 quick coupler are covered by a limited three-year warranty.
Company info
2905 Shawnee Industrial Way
Suwanee, GA
US, 30024

Website:
geith.com/na
Phone number:
800-762-4090
Read more