Doosan DX140LCR excavator features reduced tail swing and increased power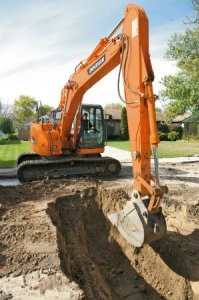 Doosan is adding more power, performance and speed to the 16-ton excavator market with the iT4 DX140LCR-3, providing greater capabilities for site development, commercial construction and highway/street development projects. The DX140LCR-3 excavator is a reduced tail swing machine that offers reduced machine length and added maneuverability, presenting contractors with an ideal machine for operating in tight quarters.
Reduced tail swing
The tail swing radius on the DX140LCR-3 is only 5 feet, which results in a tail swing overhang of just 9 inches over the side of the machine, making it an ideal candidate for working in congested jobsites such as streets, highways and rail lines without blocking traffic in adjacent lanes or tracks. Reduced tail swing also minimizes the potential for machine damage when working close to buildings or walls.
At the same time, the 12-foot-4-inch overall track length on the DX140LCR-3 provides exceptional stability for digging and lifting operations. An optional 102-inch-wide dozer blade enhances the machine's versatility.
Selectable power and work modes
The DX140LCR-3 features an electronic power optimizing system (EPOS), which provides optimum power and fuel efficiency via four work modes, auto-idle and machine diagnostics. Operators can work more effectively with multiple operating modes, easy-to-read display monitors and precise control levers. The selectable work modes permit operators to get maximum efficiency and fuel economy in specific applications. A maximum speed of 2.9 mph for the excavator provides more efficient movement around jobsites.
Straight travel
A straight travel pedal is available for the DX140LCR-3. This new option streamlines the travel and transport of the machine. It is ideal for the straightforward and backward travel common in trenching applications, as it provides a single foot pedal in the right-front corner of the cab floor that operates both tracks.