Doosan DX300LL features a fully guarded, heavy-duty undercarriage and upper structure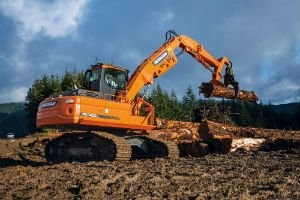 The 35-metric-ton Doosan DX300LL-3 log loader features a fully guarded, heavy-duty undercarriage and upper structure designed specifically for forestry applications.
The DX300LL is equipped with a high-walker car body with an overall width of 11 feet 10 inches and ground clearance of 31 inches. Tracks feature heavy-duty links with 28-inch double grouser shoes and full-length track guiding guards. Heavy-duty top rollers come with special clean-out brackets in place of standard carrier rollers, and final drive motors are protected by guarding.
The upper structure offers heavy-duty mainframe reinforcement, full under-house plate guarding, integral heavy-duty catwalks, armored side doors with guarding over the hydraulic pump and cooling system doors, and heavy-duty undercarriage guarding. The cab features a 4-foot riser with hydraulic tilt for transport.
The DX300LL has an operating weight of 80,910 pounds with a factory-installed log-loading front with live heel. Maximum loading reach is 38 feet 3 inches and the lift capacity at ground level over the front at 20 feet is 28,540 pounds. Lift capacity at ground level over the side (or 360 degrees) at 20 feet is 22,200 pounds.
Powered by a 6-cylinder Doosan diesel engine with 213 gross horsepower, the DX300LL features a high-pressure common-rail direct fuel injection system teamed up with the EPOS (Electronic Power Optimizing System) for optimum power and fuel efficiency. The EPOS also provides four work modes, auto-idle and machine diagnostic capabilities. Operators can work more effectively with multiple power modes, easy-to-read display monitors and precise control levers.
Interim Tier 4 emission regulations are met using a three-fold approach that includes cooled exhaust gas recirculation (CEGR), along with a diesel oxidation catalyst (DOC) and a diesel particulate filter (DPF). This engine optimization delivers increased horsepower and torque to the log loader.
Long maintenance intervals and easy access to service points increase machine uptime and productivity. Examples include centralized grease inlets, wide side access doors for cleaning radiators and coolers, boom pivot bushings with greasing intervals of 250 hours, bucket pins with greasing intervals of 50 hours and a large-capacity engine air precleaner that removes more than 99 percent of airborne particles and extends filter cartridge service life.
The larger, world-class cabin combines superior comfort, excellent visibility, low noise levels and a roomy environment. The reclining, height- and weight-adjustable standard heated air suspension seat has a headrest and adjustable armrest, along with easier-to-use controls. A larger door opening provides easier entry and exit and the high-performance air conditioner offers adjustable airflow and five operating modes.
Easy-to-operate joystick controls facilitate precise machine movements. In addition, the sound-suppressed cab keeps machine noise as low as possible to reduce operator fatigue.
Company info
Related products