AutoPilot Stringless Paving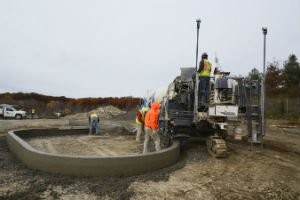 The Wirtgen AutoPilot™ – an innovative stringless control system for use with Wirtgen SP 15/SP 15i and SP 25/SP 25i concrete slipform pavers is a user-friendly, cost-effective control system for poured-in-place concrete profiles, such as curbs, safety barriers or slabs.
AutoPilot is a GPS-based system that ensures highest precision and optimum efficiency in slipform paving, regardless of whether straight profiles or highly complex curved paths are being poured.
The proprietary Wirtgen AutoPilot control system gives construction companies a distinct competitive edge, as it bypasses the need to establish a digital terrain model. That's because programming is completed by using a rover pole to capture coordinates or by simply using the jobsite plans. This means a surveyor is not required.
The AutoPilot system utilizes a computer integrated in the machine, as well as a control panel that allows intuitive operation. For course control, two machine-mounted GPS receivers communicate with an additional GPS reference station positioned on-site. For precise grade control, a laser, ultrasonic sensor or total station is used. The machine control software is a proprietary Wirtgen development.
Company info
Related products