Volvo G946C scores top grades in demanding conditions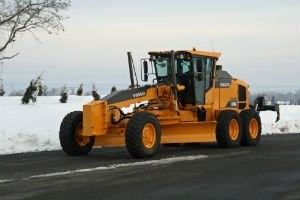 The heavy-duty G946C motor grader from Volvo Construction Equipment features a powerful Tier 4 Final/Stage IV-compliant engine and delivers the ultimate in performance and precision – whatever the ground conditions.
Whether operating in gravel or heavy clay, the robust Volvo G946C motor grader – available with an optional dozer blade or scarifier – performs with the superior accuracy and productivity that customers expect from Volvo Construction Equipment. The 38,510 lb (17,470 kg) machine's heavy-duty circle, moldboard and drawbar (with a blade pull at base of 24,957 lb (15,177 kg)) provide a stable and reliable platform, for even and precise grading, while the ergonomic human-machine interface (HMI) helps the operator stay in control at all times.
Volvo's unique twin pinion driver provides the moldboard with up to 52,000 ft-lbs (1,191 Nm ) of circle turn torque, while it is supported by 700 square inches of Duramide® bearing surface. What is more, the exterior teeth in the grader's circle turn system provide a large rotation circle, offering superb productivity and eliminating material build-up and tooth damage, for low maintenance requirements and a long service life. The new design also features a slide bearing, which holds the blade steady at full extension, for maximum precision in fine grading applications. In the drawbar system, the off-set ball stud bolts to the drawbar to ensure it stays parallel to the ground when rotating. The system is able to accommodate changes to tire size or cutting edges, avoiding cutting or welding during servicing as well as providing optimal uptime.
Quick and accurate response
The Volvo G946C's load-sensing hydraulics balance flow to all grading functions through custom-designed spools in the main valve. The system quickly and accurately maneuvers the blade to the correct position, for smooth and fast response at all operational speeds. To further enhance precision, the grader's all-wheel drive system includes a Creep Mode, which only engages the hydrostatically-powered front-wheels. This mode is especially useful in fine grading applications, as the rear tandem wheels roll freely behind the machine, without damaging the freshly graded surface.
Company info
Related products