New Wirtgen WR 240i Sets High Standards for Recycling, Stabilization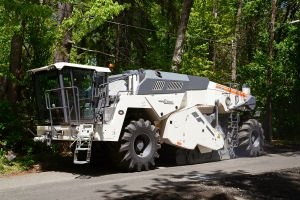 The new Wirtgen WR 240i recycler/stabilizer sets new standards for soil stabilization and pavement recycling or reclamation, while meeting U.S. Tier 4i emissions regulations, and was shown at Conexpo-Con/Agg 2014.
With a 6-cylinder Cummins engine rated at 600 hp, this next-generation Wirtgen cold recycler/stabilizer is not only extremely powerful, but also covers a correspondingly large range of applications utilizing a working width of 7 ft., 10 in. (2.4 meters) and maximum working depth of 20 in.
As a soil stabilizer, the WR 240i efficiently stabilizes large areas of incohesive soils, whether on large construction sites, or highway rights-of-way, and utilizing any stabilizing medium.
And as a cold recycler, it can recycle 100 percent of existing deteriorated asphalt pavements in situ. Water, cement or lime slurry, asphalt emulsion or foamed asphalt can be utilized, the latter created inside the W 240i's mixing chamber.
Numerous new features put it at the top of the class in terms of efficiency and economy. Machine output has been optimized by a muscular power plant with high torque reserves, yet engine power is transmitted directly and effectively. Nine different rotor speeds guarantee optimum mixing performance, aided also by ultramodern computer-controlled metering technology with automatic monitoring to ensure exactly the right mix.
A spacious modern cabin with camera system and a driver's seat that can be turned through 90 deg ensure that the machine operator always has a clear all-round view of the machine and the job site. The cabin – with its large windows – can be displaced beyond the right-hand edge of the machine, permitting a perfect and direct view of the milled edge.
All-wheel steering and a separate steering angle on the rear axle ensure an extremely small turning radius, permitting swift maneuvering at the end of short passages and in confined spaces.
Technical improvements focus not only on driving comfort, but also on easy operation. As a result, the operator now can control all the main basic functions easily and conveniently via the highly responsive multi-functional joystick in the right-hand armrest. Automated processes, such as automatic lowering and raising of the milling and mixing rotor, the ergonomically designed workplace, and an innovative reverse-assist function, make the long, hot days on a dusty construction site much more convenient for the operator, and improve his daily productivity.
The optional four-high-resolution color camera can be installed at various points of the machine to allow the operator to monitor processes under way. Selection of view is executed via joystick; the result is a significant increase in performance, economic efficiency and work quality.
Company info
Related products