New Vögele Super 1300-3i Goes Where No Paver Goes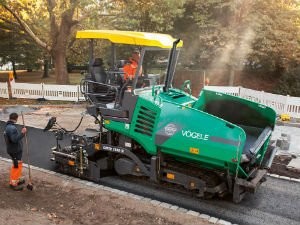 The new Vögele Super 1300-3i is a compact but versatile paver with unexpected power and performance for its size.
No component on the Super 1300-3i extends beyond its slim silhouette. With the hopper wings folded up, its basic width comes to no more than 6 ft. 1 in., this in conjunction with a length of just 16 ft. 3 in. As a result, it can be driven nearly anywhere and fit through almost any opening. Yet it can still pave up to a width of 13 ft. 9 in. No other paver in its class can match this.
Despite its compact size, the Super 1300-3i has a wide range of applications, powered by the latest generation, Tier 4i emissions-compliant, Deutz 4-cylinder diesel engine. This 6-ft. paver is ideal for all medium-width applications with main line specifications, yet it's at-home on paving jobs from commercial applications like parking lots to combined walking and bicycling paths.
Paving widths range from 2 ft., 6 in. to 13 ft., 9 in., allowing the Super 1300-3i to handle all these tasks with ease, Productivity is enhanced by its maximum laydown rate of 390 tons per hour, and movement is facilitated by a transport width of 6 ft. 1 in.
The large material hopper, holding 22,000 lbs., is dimensioned so that a sufficient quantity of mix is stored at all times, especially when shuttling in and out of areas where direct feeding of the paver is not possible. Thanks to a hydraulically operated hopper apron, no material spills when feed trucks change.
Productivity also is boosted by the very latest generation AutoSet Basic function, which permits a quick and safe move of the paver on the job site. Simply pressing the "execute" button hydraulically raises the augers, the hopper apron and the deflectors in front of the crawler tracks to the uppermost positions. The screed is brought into its transport position, while the conveyors are temporarily reversed, preventing material falling to the ground when the paver moves. Once the paver has been repositioned, pressing the "execute" button again returns all systems to the previously stored working position.
The Vögele ErgoPlus 3 operating system has been supplemented by numerous ergonomic and functional features for the "dash 3" series. The paver operator's console, for example, comes with a large color display which provides brilliant readability even in poor lighting conditions.
With ErgoPlus 3, the operator's platform is streamlined and well organized for a high level of safety. The seats and the operating console adjust conveniently and easily for each operator for a maximum of ergonomic comfort. All key paver functions are arranged in logical groups on the paver operator's console for intuitive, easy-to-learn operation. Easy operation of Vögele's Niveltronic Plus – the system for automated grade and slope control – is integrated with the ErgoPlus 3 system.
The paver comes with an AB 340 V extending screed. Heated electrically, it raises standards in terms of performance and efficient electric power utilization.
With a basic width of 5 ft. 11 in., the AB 340 V screed extends hydraulically up to 11 ft. 2 in. With the addition of bolt-on extensions, it builds up to a maximum width of 13 ft. 9 in. The AB 340 V provides great mat texture and excellent compaction. Compacting systems are installed across the screed's full paving width, including bolt-on extensions.
Company info
Related products
Related Articles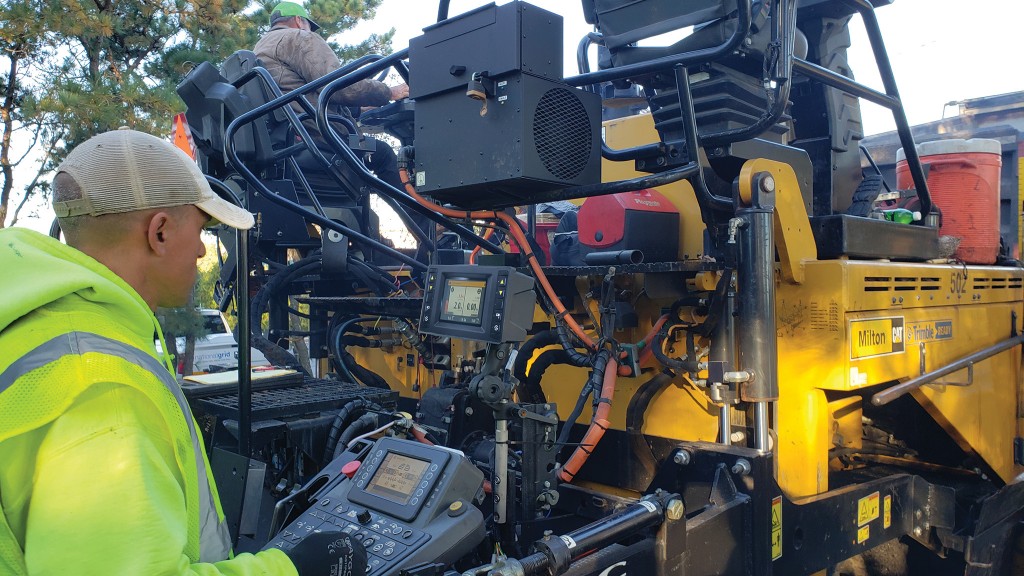 How 3D machine control is automating today's asphalt paving operations